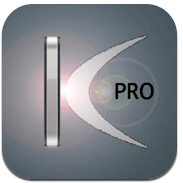 Cupertino, CA (PRWEB) April 02, 2013
Today KeyPad Plus for iOS was updated to version 2.5, adding support for international characters and symbols. With KeyPad Plus 2.5, the iPhone and iPad become powerful extensions to the traditional keyboard - with fluid keyboard layouts that can be tweaked to the needs of users.
KeyPad Plus allows one to design elaborate control panels on the iPhone or iPad – with buttons, sliders, and menus – and wirelessly control any function on a nearby computer. The app is widely used by professionals to improve their workflow in applications such as Photoshop, Illustrator, SketchUp, Modo, Word, Excel, Finale, and Apple's Pages. Users employ gestures on the iPhone or iPad to send keyboard shortcuts that perform the desired function, without drilling down menus and moving the mouse on the computer. For example, a dial gesture changes the size of a brush or rotates a 3D model, a tap applies a blur filter to an image or adds a column in a spreadsheet. Users have even designed keypad panels to control games like SimCity, World of Warcraft, and flight simulators; or laid out large graphical controls to improve accessibility for certain tasks.
The KeyPad Store - accessible from within KeyPad Plus - includes already-made control panels for many popular products; and the list seems to be growing. As of this writing, there are 17 keypads in the KeyPad Store. In addition to these, users can design, create, and tweak keypad panels of their own from scratch or from templates; or download for free from an on-line KeyPad Exchange portal keypads shared by other users.
In version 2.5, KeyPad Plus seems to further extend its already versatile array of uses and now can also relay to a computer any international character or symbol using Unicode. The computer is first set into Unicode Hex Input mode, a function available on all platforms - Mac, Windows, and Linux. Then any character from the catalogue of 65,000+ Unicode characters can be sent with a tap; from asian scripts to Cherokee layouts to ancient Samaritan, mathematical symbols, and special signs. This new functionality allows users to design keyboard layouts for any language and to satisfy special writing needs. Example keypads have already been posted on the KeyPad Exchange forum for Armenian, Ukrainian, and Ancient Greek scripts; as well as a Stenotype layout for English commonly used in courtrooms for fast typing.
More information on KeyPad Plus can be found at http://keypadplus.dopplerthepom.com where many screenshots and videos demonstrate KeyPad Plus in action.
About dopplerthepom.com
dopplerthepom.com was established in 2010 through its flagship product KeyPad for iOS - first for the iPad, then as a universal app for all iOS devices through KeyPad Plus. The app has around one hundred thousand users and has so far gone through 12 revisions.