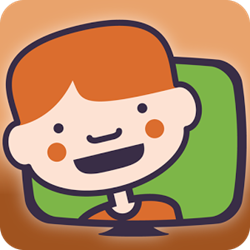 As every parent knows, television and video content for kids can either be an imaginative and educational wonderland -- or an unsafe and potentially harmful wasteland
Cupertino, CA (PRWEB) March 18, 2014
When it comes watching TV, parents who want to give their kids the independence and control they crave -- but in a manner that is 100% safe and secure -- can now download the innovative new app Kidaxis TV from developer Kidaxis LLC.
Kidaxis TV empowers kids to take over their media viewing experience and watch a selection of age-appropriate videos that have been pre-approved by their parents. Content is available from over 30 channels, including Disney, PBS Kids, Khan Academy, Sick Science, and many other fun, engaging and educational sources. Overall, there's a solid blend of tried-and-true family favorites and innovative new programming, which are sure to please and delight both kids and parents alike.
At the same time, KidaxisTV continuously adds new content, which is a huge benefit to busy parents who otherwise wouldn't have the time – or the desire – to wade through hundreds of hours of content each month. Instead, all that parents have to do is:
1. Launch the app and quickly discover new high quality, curated channels for their children.
2. Conveniently browse thumbnail images and select videos of interest that spark imagination and inspire creativity.
3. Click the selected video (or have their child "take control"), and watch it instantly on their device or connected TV.
"As every parent knows, television and video content for kids can either be an imaginative and educational wonderland -- or an unsafe and potentially harmful wasteland," commented a spokesperson from Kidaxis LLC. "Kidaxis TV lets parents take the risk and guesswork out of choosing safe, fun and ageappropriate content for their kids. And at the same time, it gives growing kids the independence and control they crave, which is also part of their healthy development."
Kidaxis TV, the innovative new app that lets parents safely put their kids in control of the TV, is available now for Android devices from Google Play at https://play.google.com/store/apps/details?id=com.kidaxis.kidaxistv.
Additional app information, including screenshots, is available at http://www.kidaxistv.com.
For more information or media inquiries, contact Mark Johnson on behalf of Kidaxis LLC at +1 408 757 0156 or press (at)appshout(dot)com.
About Kidaxis LLC
Kidaxis LLC was established in 2012, by a couple who love and adore kids, with a mission to develop products that would stimulate learning and enhance the imagination of kids in a productive way. Kidaxis is an innovator in creating products that are fun and educational. With children being our future, they work tirelessly to engage their minds and strike curiosity.
Committed to providing their customers with the best unique, high quality learning and fun products in the world - their first product was the Math Challenger which was released in 2012, a board game which makes learning math very fun.