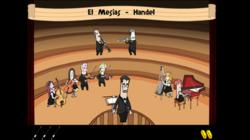 Cupertino, CA (PRWEB) June 22, 2013
21 June is World Music Day. Marking the beginning of the summer solstice, this music festival draws thousands of people. This makes it one of the leading music events worldwide. It is a festival in which the world celebrates the magical gift of music, promoting it with free concerts, both previously planned and improvised.
Deirium Studios is joining the music crowds with a music composition puzzle video game. Kinito Music Puzzle, which will be available for free download for iOS and Android devices, pays tribute to classical music. A music puzzle with 40 masterpieces, divided into color pieces. Players have to help the conductor arranging the pieces. They have to fit in for the concert to be successful.
Kinito Music Puzzle improves ear training while helping players enjoy classical music under a new light. Its repertoire includes some of the most beautiful and popular works in the history of classical music. Great composers like Beethoven, Mozart or Verdi make it the best classical music puzzle ever launched.
Kinito Music Puzzle, the addictive new game for anyone who enjoys classical music or challenging puzzles, is available now in the App Store at: https://itunes.apple.com/app/kinito-music-puzzle/id658828078 and Google Play at: https://play.google.com/store/apps/details?id=com.deliriumstudios.kmp.
On the occasion of World Music Day, the video game developer Delirium Studios is launching a music puzzle game for all smartphones and tablets. A challenge for music lovers. Available now as a no-cost download in the App Store and Google Play.
About Delirium Studios
Delirium Studios is an independent video game studio. The company, located in Spain, develops games for mobile devices running iOS and Android. Delirium Studios also develops games for other platforms, such as the Nintendo 3DS and the newly released, Ouya.