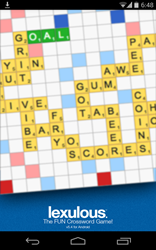 Cupertino, CA (PRWEB) June 05, 2014
Lexulous, the popular crossword game, announces reaching the 6 million user milestone and the launch of a new version called Super Lexulous. This new version will help users improve their skills by analyzing player's game play after the match is over. Users are now able to view all the moves they played and see the best moves they missed, helping players become Lexulous experts.
Lexulous is an extremely popular game, with more than five million games played in April 2014 alone. Additionally it's a very social app, with over 500 million messages shared between players. Now Lexulous is taking social to the next level by allowing users to share pictures as well.
Lexulous, is an online crossword game and mobile app. The game allows users to play with their Facebook friends, random players, or against the computer. "The Lexulous community is a happy one with new users joining everyday, the game is very challenging and fun for people of all ages," said Lexulous co-founder, Rajat Agarwalla. "Our game allows people to connect with each other and especially unites families and friends."
In the new Super Lexulous update players will receive a total of 178 tiles instead of 89 tiles they get in Lexulous. The game board will be 21x21 grid instead of 15x15 as in Lexulous. The bigger board has more premium squares, for example, quadruple word and letter score spaces. This enables players to score a higher total. Strategy wise, it will make more sense for players to focus on premium squares rather than bingos (using all given letters to create one word), as the importance of a 50 point bonus is slightly reduced.
One important feature of Lexulous is the push notifications. The game allows users to play their turn and close the app. Then, after their opponents play their turn, Lexulous sends a notification to inform users they can pick up game play. Users can pick up the game across multiple devices and even finish their game play via email. This makes it easy to play multiple games at the same time. Some extreme Lexulous fans play over 100 games at once.
About RJ Solutions
Created by brothers Rajat Agarwalla and Jayant Agarwalla, who first developed and launched Lexulous in 2005.
See more at:
https://www.facebook.com/lexulouswordgame
https://twitter.com/lexulous