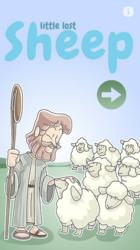 Cupertino, CA (PRWEB) January 24, 2013
On January 21th, Apps for All launched their latest app: Little Lost Sheep. Parents together with their toddler can use their iOS device to play hide-and-seek to find a digital lost sheep. It's a simple game: the toddler is the shepherd who has to close his or her eyes tight. Then the parent will hide the iPhone somewhere in the room. In a shoe, under a seat, in the dollhouse, anywhere!
Once the device has not moved for three seconds, the screen will go black and the phone 'transforms' into a Little Lost Sheep. This virtual sheep will call for help every 5 to 10 seconds. Now the shepherd can start their search; they can hear the sheep, but not see it! Using only their ears the shepherd must then continue to search for the sheep, then once found it's time for a party because the herd is complete again!
Little Lost Sheep has been specifically developed for toddlers and gives consideration to specific constraints to ensure a healthy and fun experience that also aids their development. Toddlers can't read, their attention span is very short and, as most parents will agree upon, they should not sit behind a (big or small) screen for too long. Little Lost Sheep's innovative mix of real-world and digital gameplay takes this into account in a very friendly and engaging app.
Little Lost Sheep is a game for toddlers, with which they cannot and must not sit still. The app can be played where-ever the iPhone goes, so new hiding places are endless. Therefore Little Lost Sheep will become 'new' for the little ones over-and-over again. The app can of course also be played by two (or more) kids, whilst toddler and parent can even switch roles - to the child's delight when the adult cannot find a well hidden sheep.
Until now, Apps for All have focussed on small and boring utilities like address book cleaners and small photo editors. Lead developer Wim de Nood explains the shift towards Little Lost Sheep: "The simple truth is that the idea for the app came to life when my 3-year old daughter asked me, with that angelic smile, to 'pleeease' make her an app. How could I refuse?"
Little Lost Sheep, the interactive "hide-and-seek" style game that will bring a smile to both parents and children, is available now in the App Store at https://itunes.apple.com/app/little-lost-sheep/id591017862.
For more information or media inquiries, contact Mark Johnson on behalf of Apps for All at +1 408 757 0156 or press(at)appshout(dot)com.
About Apps for All
Based in Tilburg, Netherlands and founded in 2012, Apps for All already boast a portfolio of over 20 apps which have been downloaded nearly 1 million times worldwide.
Specializing in productivity and utility applications which fill gaps for both iPhone and iPad, Apps for All also keep their offerings fresh with occasional releases in the game and fun tool genres.