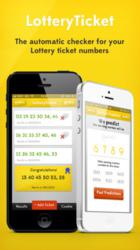 The main purpose of LotteryTicket is to make the whole lottery process that much easier for everyone.
Cupertino, CA (PRWEB) June 28, 2013
June has seen Edenpod Apps release a new version of their iOS app, LotteryTicket, which now checks US Mega Millions results automatically and alerts users with the results via a push notification or email on the draw date.
This will be useful for people who tend to forget about checking their Mega Millions results or who find it troublesome to check their numbers against the results every time.
LotteryTicket is an easy to use app - simply key in your ticket number into the app and choose the draw date. When the results are out, the user receives an automatic push alert notifying whether the ticket numbers entered into the app have won a prize.
In addition, the app also offers premium features like the 'Number Predictor' & 'Ticket Analyzer'. The Number Predictor is the app's version of 'Quick Pick' & provides the system's picks for the next draw. It uses historical data to pick the numbers that have the highest probability of winning.
The Ticket Analyzer allows users to check how many times their favorite or lucky numbers have won in the past in order to make the process of picking lottery numbers easier. The app has been popular in Singapore for some time and, along with the new premium features, now offers support for the Singapore TOTO lottery in addition to the already existing Singapore Sweep & Singapore 4D.
"We have always heard of stories about people forgetting to check their lottery numbers or checking them incorrectly and losing out on big money. We decided to create an app to solve this problem as apps have continuously been growing in popularity with more people now on their mobile devices than ever", commented Winston Chan of Edenpod Apps.
"The main purpose of LotteryTicket is to make the whole lottery process that much easier for everyone."
People who are frequent visitors of lottery retailers can download the app for free from:
http://itunes.apple.com/app/id444928739
About Edenpod
Founded in 2010, Edenpod is a mobile app hotspot in Singapore. Besides being a home to talented entrepreneurs, mobile app developers, digital marketers and designers, the team at Edenpod loves to be challenged by the ever-evolving online media industry. The team is also behind popular apps like TradeHero & the social nightlife network called Goinout.
Website: http://www.edenpod.com/LT