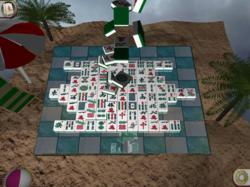 Quite simply, we feel that Mahjong Prime 3D is the last mahjong game that people will ever need!
Cupertino, CA (PRWEB) December 13, 2012
Mahjong fans of all ages who want a fun and challenging new way to enjoy the essential tile matching game – and be blown away by spectacular graphics that they won't find in any other mahjong app available -- can now download the new app Mahjong Prime 3D, and prepare to be amazed by what they see.
Created by BH Projects, Mahjong Prime 3D features stunning graphics that have to be seen to truly be appreciated, including high resolution tile sets, high quality tile models, reflections and stencil shadows. Gamers can chose from four play modes: classic, two turns, memory or two corner. They can also choose basic graphics, 3D graphics, or they can play in the shadows of Greek ruins or on the beach. Plus, the app's high score counter helps gamers test their improving mahjong skills game after game.
The first computer tile-matching solitaire majong game was created by Brodie Lockard and Brad Fregger in 1986. Brodie claimed that his game was the opening stack to an ancient solitaire game "The Turtle", which was played in China centuries ago. And now, BH Projects has brought a beloved, time-honored game into the modern age in a way that novices and experts alike will appreciate and enjoy.
"Quite simply, we feel that Mahjong Prime 3D is the last mahjong game that people will ever need!" commented Hugh Allan of BH Projects. "While retaining the fundamentals that make mahjong a popular pastime enjoyed by millions of people the world over, we've reinvented the look and feel of the game. Gamers who simply try Mahjong Prime 3D will never be able to go back to old-fashioned mahjong again!"
Mahjong Prime 3D, the new mahjong app that features multiple game modes, stunning backgrounds and graphics, and hours of challenging fun, is available now on iTunes at https://itunes.apple.com/app/mahjong-prime-3d/id582437560. The app is designed for iPhone and iPad.
For more information or media inquiries, contact Mark Johnson on behalf of BH Projects at +1 408 757 0156 or press(at)appshout.com.
About BH Projects
BH Projects first hit the scene in 1996 as a producer of Mac games, including the popular title Mac Invaders. The company's first hit was in 2001 with the release of Mah Jong Solitaire 1. This was quickly followed by Mah Jong Solitaire 2, which in 2003 became the first 3D/Open GL mahjong game for Mac. Since then, the company has published Phoenix Ball, Easy Sudoku and Pool Shark for Mac, and Memory Mahjong HD and Deluxe Sudoku for iPhone. Mahjong Prime 3D is the first installment in a trio of stunning games that will be developed over the next 12 months – each one promising to be better than the last.
Learn more at http://www.bhprojects.com