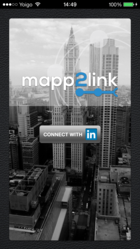 Cupertino, CA (PRWEB) June 12, 2013
match2blue (http://www.match2blue.com), an IT service provider specializing in mobile marketing, is launching a pioneering app for LinkedIn with new functionality. LinkedIn was launched in 2003 and now boasts over 200 million registered members in over 200 countries, making it one of the world's largest social platforms and the most influential network for business relationships. The mapp2link app accesses LinkedIn and uses the smartphone to build a bridge between the Internet and real life.
Mobile networking with mapp2link – how it works
With mapp2link open or running silently in the background, users receive a message whenever a business contact who they are linked to on LinkedIn is nearby. This push function can be switched on or off for each contact individually as desired. The app displays all the user's LinkedIn contacts and indicates which ones have the app installed on their smartphone. If they have the app, users can contact them straight away using the integrated chat function. If LinkedIn contacts do not have the app, they can be invited to install it with just one click. mapp2link helps you to get the most from trade fairs, conferences, and business trips. Never miss a business partner again, and network with business contacts in spontaneous meetings.
mapp2link is also geared to the needs of LinkedIn members when it comes to privacy and data security. The app's push messages tell the user when contacts are located in a town or district within a certain radius but does not reveal their exact location. This makes mapp2link very different from other location-based smartphone apps that allow users to pinpoint all of their contacts, and sometimes even unknown users, at any time and from any location.
The application is also more energy-efficient than other localization apps: thanks to the intelligent query logic, it uses less than one percent of the battery charge per hour, even when the app is running in the background.
mapp2link is now available in the Apple App Store for iOS.
https://itunes.apple.com/app/mapp2link-your-radarforlinkedin/id595928364
The app is also being planned for Android and will be available in the Google Play Store in the coming months.
Printable and royalty-free material relating to this press release (logos, app screenshots, etc.) can be found here: http://www.match2blue.de/en/press. Straightforward instructions on how to use the app correctly are available here: http://mapp2link.com/how-it-works.html
About LinkedIn Corporation
Launched in 2003, the business network LinkedIn connects specialist and managerial staff worldwide, helping them to be more productive and successful. With over 200 million members, including the top decision-makers of all Fortune 500 companies, LinkedIn is the largest online network for professionals. The company has a diversified business model with revenue from recruiting solutions, advertising sales, and membership fees.
About match2blue
match2blue is a technology company and IT service provider based in Mainz, Jena, and New York that develops individual mobile solutions for iPhone, iPad, and Android smartphones.
Its innovative technology is able to identify relationships between people, places, interests, and texts. These relationships are used to supply users proactively with information that is relevant to them, creating a brand new mobile experience. For business customers, match2blue uses this technology to realize mobile solutions that impress with their scalable and location-based processing of information in real time. With skilled and involved consultation, forward-thinking monetization strategies, and the most cutting-edge technology in the match2blue segment, the company has pushed mobile innovation forward since 2009.