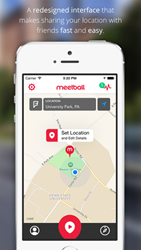 With MeetBall, everyone now has a simple way to temporarily share locations and use the compass to navigate to friends and family
Cupertino, CA (PRWEB) November 12, 2014
Everyone looking to find their party, whether at a tailgate, music festival or college campus, can now be empowered to enjoy the moment instead of searching in frustration by downloading the recently updated app MeetBall for iPhone and Android.
"Every football fan has experienced the pain of wasting valuable time looking for their tailgate party on Gameday", noted Ryan Owen - co-founder of MeetBall. "Two years ago, after several emotionally exhausting hours trying to rendezvous with friends at a Penn State game, we set out to come up with a permanent solution to this pervasive problem. With MeetBall, fans now have a simple way to temporarily share locations and use the compass to navigate to friends and family."
Team MeetBall traveled the country in the fall of 2013, engaging with fans ranging from the professional tailgater to the occasional party guest. The insight helped MeetBall develop an intuitive design which allows users to add new MeetBall contacts from their address book, select location for sharing and navi-gational purposes, and message within the app. Users active on Twitter can Tweet their MeetBalls to followers, leveraging the twitter platform to create pseudo-public MeetBalls so more people can Find Your Party.
The update comes in perfect timing for the app, as tailgaters find themselves navigating the NCAA and NFL schedules.
MeetBall is now available worldwide for free on the Apple App Store at: https://itunes.apple.com/us/app/meetball-2/id809018254
A dedicated Android version is also available via Google Play at: https://play.google.com/store/apps/details?id=com.meetball
For more information or media inquiries, contact Ryan Owen on behalf of MeetBall at +1 773 771 4709 or ryan(at)meetball(dot)com.
About MeetBall LLC
Chicago-based MeetBall LLC, founded in 2012, was built on the ideas of location sharing, event coordination and community building. The company believes that too much time is wasted looking for friends and locations when there is only so much time before and after the big event takes place. Helping friends navigate the crowds to find each other allows for more memory-making and less stress. With decades of technology, entrepreneurial and tailgating experience, Team MeetBall has created the perfect app to help users Find Your Party.
For more information visit http://meetball.com