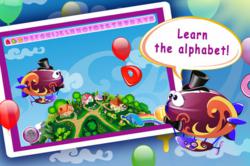 Research studies confirm that children who can read and write before they start school enjoy a head start academically, and in many other ways
Cupertino, CA (PRWEB) September 17, 2012
Parents and educators who want to give children between the ages of 2 and 5 a powerful learning advantage and an academic head start, can now download the fun new children's learning app Mr. Blimp for iPhone, iPad and iPod touch.
Designed by KiWi Games, Mr. Blimp contains six unique exercises to help children learn numbers, the alphabet, reading and spelling. Each exercise is carefully designed to be educational, and yet fun, exciting and interactive – which makes it a joy for both children and adults alike.
Plus, parents and educators can instruct Mr. Blimp to pose ever-increasing levels of difficulty, so that children remain engaged as they master the easier ones. They can also customize the app by having their voice announce each letter, number and word, which further keeps children interested hour after hour – even when they're learning alone.
"Research studies confirm that children who can read and write before they start school enjoy a head start academically, and in many other ways," commented Mark Collins of KiWi Games. "Mr. Blimp is a great way for parents and educators to give children a learning advantage, in a way that's also fun and joyful!"
Mr. Blimp, the delightful and interactive children's learning app that teaches children aged 2-5 numbers, the alphabet, reading and spelling, is available now on iTunes at http://itunes.apple.com/app/mr.-blimp/id520771098.
A video trailer is available on the KiWi games website at http://kiwi-games.com/ mrblimp/index.html. The app is available in English, and KiWi Games will be releasing regular updates to add more exercises and games.
For more information or media inquiries, contact Mark Johnson of appshout! on behalf of KiWi Games at +1 408 757 0156 or press (at) appshout (dot) com.
About KiWi Games
Kiwi Games is a creator and developer of iPhone and iPad games for all age groups. The firm's current roster of apps includes: Sleepy Moon, Snowslider, Night Holligan, and the recently-released Mr. Blimp. Learn more at kiwi-games.com, and follow the firm on Facebook and Twitter for the latest updates, product announcements and more.
Learn more: http://kiwi-games.com/