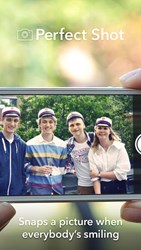 All users have to do is point their device, wait a few seconds, and then take all of the credit for snapping a beautiful, flawless group shot!
Cupertino, CA (PRWEB) September 26, 2013
The dreaded problem taking a group photo with an iPhone or iPad only to discover that someone was caught with their eyes closed is finally a thing of the past, thanks to the remarkable new app Perfect Shot from TapMedia, LLC.
Designed to take advantage of advanced eye and blink technologies that are exclusively available in iOS 7, Perfect Shot ensures a single, flawless group shot every time via three simple steps:
1. Users hold up their iPhone or iPad and get ready to take a group photo.
2. Perfect Shot automatically counts how many people are in the frame and detects each individual's set of eyes and smile.
3. When everyone in the group is ready with a smile and open eyes – and not a moment before -- the app automatically takes a single, perfect photo.
And even more impressively, all of this counting, detecting, processing and perfecting takes place simultaneously, and in less than a second. Users can also save photos to their camera roll for safe keeping and easy sharing.
"Anyone who has taken a group photo – whether it's among friends, at a wedding, on vacation, at work, or anywhere else – knows that trying to ensure that everyone is smiling and staring at exactly the same time is often an exercise in futility," commented John Meyer of TapMedia, LLC. "And what's more, many people simply don't have the opportunity to re-take a group photo at all. Fortunately, with Perfect Shot they no longer have to worry. The app does all the work for them. All they have to do is point their device, wait a few seconds, and then take all of the credit for snapping a beautiful, flawless group shot!"
Mr. Meyer also added that his company, TapMedia, LLC, is donating 25% of all monthly profits from Perfect Shot sales to a user-selected charity via DevFund. "By partnering with DevFund, our users play a big role in helping someone in need. We're honored to do our part to help make this happen, and encourage other app developers to do the same!"
Perfect Shot, the remarkable new iOS 7 exclusive app that finally ends blinking in group photos and ensures a single, flawless shot every time, is available now in the App Store at https://itunes.apple.com/app/perfect-shot-by-tapmedia/id705661027.
Additional app information and screenshots are available at http://www.perfectshotapp.com/
For more information, media inquiries or to request an App Store promo code, contact Mark Johnson on behalf of TapMedia, LLC at +1 408 757 0156 or press(at)appshout(dot)com.
About TapMedia, LLC
TapMedia, LLC creates innovative and elegant apps for iOS, Mac OSX, and Android. The firm's founder and CEO John H. Meyer is a technology entrepreneur and business & marketing strategist who prides himself in leading and developing new and innovative projects. By the age of 16, John had created over 35 apps, 6 of which climbed into the top 25 in the iTunes AppStore. In total, John's apps have been downloaded more than 3 million times in less than 3 years.
Learn more at http://tapmediaapps.com