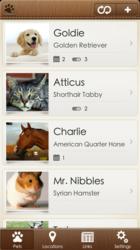 I wanted a place where I could keep all of Atticus's information available to me easily, wherever I am….that's why I created Pets+
Cupertino, CA (PRWEB) February 06, 2013
Saint Paul MN, January, 2013 - Blinkloop Software announces the latest, all-in-one iPhone app, Pets + The Pet Organizer, that helps pet loving parents store, manage and safely save all of their pet's available information on multiple devices.
"Keeping all my pet's information in one place had become very difficult," says Michael Peterson, creator of the Pets+ iPhone app. "With some information in file cabinets, paper notes on my desk, information on my computer and some on my iPhone, I wanted a place where I could keep all of Atticus's information available to me easily, wherever I am….that's why I created Pets+."
Pet+ The Pet Organizer stores all information about pets including their name, photos, gender, breed, weight, birth date, emergency contact information, appointments, identification and microchip information, feeding information, vet and groomer contact information, medication information, favorite websites and shopping sites. There is also a notes section to include information about a pets vet appointments and more.
With Pets+ users can track their pet's weight, create and set reminders for appointments, find nearby groomers, vets, and favorite stores, link them to each pet and map the location. They can also automatically call emergency and service provider phone numbers, as well as export and share information or photos via Facebook, Twitter, Instagram and more.
There is no limit on the number of pets that can be entered, making it a great app for multiple pet households, groomers, vets, breeders, shelters and pet care givers. And it works with all types of animals, from dogs and cats, to birds, horses, fish, reptiles, ferrets, hamsters, and other small pets, even pigs, chickens, cows, sheep and more!
Pets+ syncs to the Cloud so users never lose or accidentally erase their pets information, again! And the app provides all the social sharing needed to share those great photos with friends and family.
Pets+ is available from the US Apple App Store for $1.99. For more information please contact info@petsplusapp.com, call (763) 234-6848, or visit http://www.petsplusapp.com.
Pets+ is available in the app store at: https://itunes.apple.com/app/Pets%2B/id590313331.
Download a press kit at http://petsplusapp.com/presskit.zip.
About Blinkloop Software
Blinkloop Software is an independent iOS app developer which as been creating Productivity and Lifestyle apps. Located in Saint Paul, MN Blinkloop Software has been developing apps independently and freelancing since 2008. We focus on creating high quality apps in niches that don't already have great options to choose from.
Learn more: http://blinkloop.com