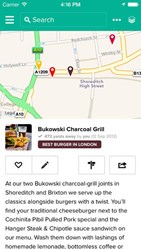 Truly intuitive, truly smart, and truly useful.
Cupertino, CA (PRWEB) January 07, 2014
"Truly intuitive, truly smart, and truly useful."- Stephen Fry
Caffeinehit Ltd, the development team behind Summly—the app sold to Yahoo! for $30m earlier this year—today released a major upgrade of Pin Drop, their [award-winning] iPhone app (http://pindropapp.com) that lets you create free personal maps of your world.
Andy Ashburner, Founder of Pin Drop, said: "Alongside news, great maps are one of the most essential services we need on our smartphones, but the current mapping services lack personalisation, privacy or the ability to customise. So we created Pin Drop, letting everyone create their own maps in a creative and secure way, easy to share with their friends, family or colleagues."
The app has had 250,000 downloads across 196 countries since its BETA launch in early 2012. During that time, some amazing uses have come to light including: pro skaters and surfers around the world marking their favourite spots, mountain rescue teams plotting avalanche hotspots, charities using it amongst their outreach teams, real estate agents managing their property portfolios, sales teams managing customers, taxi companies marking where customers skip fares, amazingly a Welsh swimming pool company (there can't be many of them) using it to mark rival swimming pool installations all the way through to multi-national engineering and haulage companies using it to streamline their field teams.
Some of the new features on Pin Drop include:

Social - Follow friends and curators and import location data from your other social accounts.
Directions - Link with other navigation apps to help you get from A to B.
Pins - Remember places with more rich content and enhanced privacy settings.
Groups - Create groups of friends and colleagues to share your favorite places with.
Collaborate - Create topical eco-systems of content amongst friends or the entire community.
Search - Find everything quickly and easily from one simple search.
British actor, writer and blogger Stephen Fry commented, "Pin Drop might at first sound like another (yawn) map app, but this is something that once you've used you will move to the front page of your phone. Truly intuitive, truly smart, and truly useful."
Pin Drop is available for free on the App Store and Google Play; http://www.pindropapp.com/apps/.
iOS: https://itunes.apple.com/gb/app/pin-drop/id425356789
Android: https://play.google.com/store/apps/details?id=com.caffeinehit.pindrop
For all media inquiries, please contact Andy Ashburner
e: andy(at)caffeinehit(dot)com
o: +44(0)207 729 2255 // m: +44(0)7776 30 40 60
Press assets can be downloaded from http://www.pindropapp.com/press/.