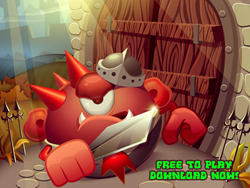 People who are familiar with our roster of apps know that we have a knack for developing outrageously creative games that are unlike anything found in the App Store -or anywhere else for that matter
Cupertino, CA (PRWEB) March 26, 2014
People in search of a creative new gaming experience that will transport them to a medieval world filled with enemy clansmen that must be vanquished one "pop" at a time, can now head to the App Store and download Nine 54 Apps' latest and perhaps most original effort to date, Poppers Castle - Medieval Battle of the Royal Popple Clan.
Easy to play yet challenging to master, Poppers Castle - Medieval Battle of the Royal Popple Clan calls forth brave gamers on a noble quest to lead their clan to victory and become king of the castle. And the only way they can accomplish their mission is by tapping their iPhone or iPod screen to "pop" the little Popple Clansmen before they explode.
And while this may sound like a breeze, there's a key twist: gamers only have a limited number of taps for each level, which means they must think strategically as well as tactically in order to win the day, and get ready for the next level (and yes, even more ferocious Popple Clansmen). Of course, if things get a bit too tough for some gamers, the app features power ups and a daily dose of hints – which are very helpful for some of the harder levels.
Other key Poppers Castle - Medieval Battle of the Royal Popple Clan special features include:

Outstanding HD graphics optimized for the Retina display
Great sound effects that make popping Popple Clansmen ridiculously fun
Dozens of levels – each one more challenging than the last
The ability to ask friends for help and earn hints
"People who are familiar with our roster of apps know that we have a knack for developing outrageously creative games that are unlike anything found in the App Store -or anywhere else for that matter," commented Gary Mass of Nine54 Apps. "And Poppers Castle - Medieval Battle of the Royal Popple Clan is certainly worthy of that description! It's easy to play, tough to master, and delivers hours and hours of delightful, Popple Clansmenpopping joy. What more could anyone ask for?"
Poppers Castle - Medieval Battle of the Royal Popple Clan, the new no-cost game that is an addictive mix of strategic planning and competitive, fast-paced action is available now for iPhone and iPad in the App Store at: https://itunes.apple.com/app/medieval-battle-royal-popple/id793752850.
Additional app information, including screenshots, is available at: http://apps.appshout.com/poppers-castle-medieval-battle-of-the-royal-popple-clan/
For more information or media inquiries, contact Mark Johnson on behalf of Nine54 Apps at +1 408 757 0156 or press (at)appshout(dot)com.
About Nine54 Apps
Nine54 Apps is an indie game studio with the development team, headquartered in Fort Lauderdale, Florida. Founded in 2013, Nine54 specializes in world-class apps that quickly set the new industry standard. We turn creative, insight and design into gorgeous yet simple apps that inspire users. We are a remarkable team of dreamers, thinkers, makers and doers with unparalleled experience and relentless passion. Our mission: Smart, Simple, and Successful apps that provide hours of entertainment.
Learn more at http://www.nine54.com.