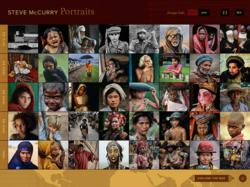 Cupertino, CA (PRWEB) June 28, 2013
Portraits, is a collection of iconic and never before seen portraits by famed photographer, Steve McCurry. McCurry has traveled to dozens of countries; his photographs capture individuals both in vanishing cultures and modern life. The "Portraits" iPad app features a personal and stunning collection of nearly 200 of McCurry's portraits from around the globe.
Steve McCurry, whose image of the Afghan Girl was named as "the most recognized photograph" in the history of the National Geographic magazine, is widely considered one of the world's greatest living portrait photographers. Bluecadet worked closely with Steve McCurry to assemble this rich and immersive app, now free for download.
Users of the iPad App can explore hundreds of never-­published photographs in Retina Display detail, browse the photos geographically and chronologically, and watch a twenty-­minute behind-­the-­scenes video. The app also includes ephemera from McCurry's travels including notes, keepsakes, and postcards from his global sojourns.
Portraits by Steve McCurry is available now in the App Store at:
https://itunes.apple.com/app/portraits-­‐by-­‐steve-­‐mccurry/id589821521
About Bluecadet
Bluecadet is an Emmy award winning interactive studio. They specialize in multimedia experiences that excite, engage and inspire for museums, artists, journalists, non-­proVits and international brands.
Past clients include the MoMA, Doctors Without Borders, National Geographic. the National Park Service, several Smithsonian museums, the Getty and the Field Museum of Natural History.
Their work has garnered numerous awards and recognition including an Emmy, several Webbys, and a SXSW award, along with several project and studio profiles in such publications as HOW and Communication Arts. They have dogs, a few small kids and live in Philadelphia; they are storytellers for a digital age.
For more information visit http://www.bluecadet.com.