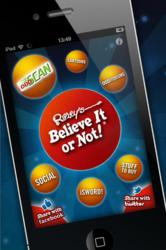 Cupertino, CA (PRWEB) September 28, 2012
Fans of all things unbelievable can now enjoy the world's weirdest phenomena for free on their Apple or Android device when they download the brand new Ripley's Believe It or Not! App.
Designed by Ripley Entertainment Inc., the Ripley's Believe It or Not! App offers exclusive access to the latest Believe It or Not! stories, cartoons, videos, and photos. Users can get social with live Twitter and Facebook feeds, as well as share and retweet Ripley posts directly from the app, download the latest Ripley's Magazine that is available to Ripley fans only through the app, and get info on all 32 Odditoriums located around the world.
The Ripley's Believe It or Not! App premieres the revolutionary image recognition technology, oddSCANTM. oddSCANTM unlocks amazing interactive content in Ripley books and Odditoriums.
For example, users can make the pages of Ripley's latest book, Download the Weird, come alive with oddSCANTM by scanning pages that feature the oddSCANTM logo - and POW! incredible extra videos, pictures, and behind the scenes stories will be displayed!
During the last week of October a museum bundle will be added providing support for oddSCANTM in the Oddditoriums. Scanning trigger images located throughout the museum will transform visitors into a Believe It or Not! celebrity. Including Walter Hudson, the fattest man to ever live, the Vampire Woman, a tattoo artist who has transformed herself with tattoos, titanium implants, piercings, and permanent fangs, and the Lizardman, a man who has spent over 700 hours altering himself to look like a reptile with scale tattoos, sharpened teeth, and a forked tongue. Each photo transformation becomes a digital collector card that can then be posted to Facebook and Twitter straight from the app.
The Ripley's Believe It or Not! App brings a world of weird to the palm of the hand. With constant updates and live feeds, brand new content is available every time the app is opened. The app is available now for free for Apple devices at the App Store or Android devices at Google Play.
For more information or media inquiries, contact Mark Johnson of appshout! on behalf of Ripley Entertainment Inc. at +1 408 757 0156 or press(at)appshout(dot)com.
About Ripley Entertainment Inc.
For over 90 years Ripley Entertainment Inc. has entertained visitors around the world, with over 80 exciting attractions in 10 countries, along with best-selling books, a network television series in more than 70 countries, and the longest continuously published newspaper comic in history. Cartoonist and adventurer Robert Ripley started it all in 1918 when he began drawing his daily feature.
Learn more at http://www.ripleys.com/