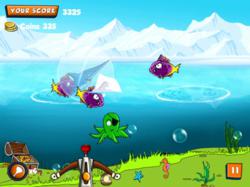 Aside from the creative gameplay, great graphics and fun sound effects, what makes Sea Flunger even more special is that it helps develop kids' coordination and motor skills in a way that doesn't feel or seem like learning
Cupertino, CA (PRWEB) December 21, 2012
Parents and educators who want to entertain kids hour after hour, while at the same time develop their coordination and motor skills, can now download the creative new kids game app Sea Flunger.
Created by CAD Entertainment and designed for iPad, iPhone and Android- enabled devices, Sea Flunger immerses kids in a fun and imaginative world populated by cleverly-named underwater creatures – such as "Sammy the Shark" and "Oscar the Octopus".
These colorful creatures randomly jump above the water at various angles, while kids take aim with their crossbow plunger and attempt to hit their target in mid-air – gently sending them back down below where they belong. Each successful strike is rewarded with gold coins, which can be used to unlock new and delightful members of the Sea Flunger world. And as a special bonus, kids who successfully plunge all of the zany Sea Flunger creatures back below the water unlock a super exciting "fish frenzy"!
"Aside from the creative gameplay, great graphics and fun sound effects, what makes Sea Flunger even more special is that it helps develop kids' coordination and motor skills in a way that doesn't feel or seem like learning," commented Terry Anassis of CAD Entertainment. "Kids are too busy laughing and eagerly waiting for the next wacky underwater creature to jump out of the water to realize that they're getting smarter!"
Added Terry Anassis: "We'll be releasing a steady stream of new versions that introduce even more wonderful Sea Flunger characters and levels. So this really is a unique app that can be a part of a kid's life for years – not just for days or weeks."
Sea Flunger the creative, entertaining and educational new kids game app, is available now for iPad and iPhone from iTunes at https://itunes.apple.com/app/ sea-flunger/id575547703. A version for Android-enabled devices is also available from Google Play at https://play.google.com/store/apps/details?id=com.terry1.
For more information or media inquiries, contact Mark Johnson on behalf of CAD Entertainment at +1 408 757 0156 or [email protected]
About CAD Entertainment
Based in Melbourne, Australia, CAD Entertainment creates game apps for kids that are easy, fun and educational. The company is in the process of developing an update to its first release, Sea Flunger, which will introduce kids to two delightful new characters, and engage them with new challenges. In addition, the company plans on releasing new game apps that target the 15+ age bracket.
Learn more: http://cadentertainment.com