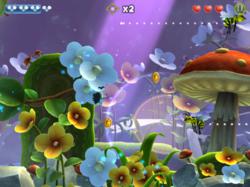 Cupertino, CA (PRWEB) April 25, 2013
Today Headup Games is pleased to announce the worldwide release of Shiny the Firefly for iOS and Android. This high-quality graphics game combines the best gameplay elements of adventures, games of skill, and puzzle games while being as addictive as a Jump'n Run.
To celebrate the global release Shiny the Firefly will appear in the Android Play Store as well as the iTunes AppStore for the bargain price of $1,99 instead of $2,99 – furthermore today we are thrilled to roll out Shiny's release trailer, which includes an audiovisual peek into the gameplay and visuals:
Trailer: http://www.youtube.com/watch?v=bm6Sqs7NPcs
About Shiny the Firefly
This adorable game, set in the middle of a picturesque garden, has the player helping Shiny, the cute little firefly, to find his babies. The player will have to fly, run, hide and defend itself against a legion of enemies. Stubborn mosquitoes, hungry toads, mischievous plants, sneaky wasps, endlessly long centipedes and lots of other little, dangerous garden dwellers are going to get in the way and make life difficult.
The player's reflexes will be tested, as well as needing their wit and intellect as they navigate through this beautiful, colorful world helping Shiny in his search. All kinds of different animations let the player know how Shiny's feeling. So the player will always know if Shiny feeling happy, concerned, tired or angry. That will help the player to solve the trickiest situations in the game. The player has to use it ability to shine skillfully: the babies can only follow Shiny when he is lit up, but that also makes him visible to his enemies…
Will the player succeed in reuniting Shiny with his family?
Features

Visual and gameplay highlights
Unique "Light on, light off" feature
Great, high-quality graphics
A charismatic character with numerous animations
Three different worlds with a total of 33 levels, teeming with enemies, bosses, puzzles and other game elements
An all-round fully developed and intuitive game experience for everybody
Game Center integration
Market links
Android:
Free: https://play.google.com/store/apps/details?id=com.headupgames.shinyfree
Paid: https://play.google.com/store/apps/details?id=com.headupgames.shiny
iOS:
Free: https://itunes.apple.com/us/app/shiny-the-firefly-free/id614575988?l=de&ls=1&mt=8
Paid: https://itunes.apple.com/us/app/shiny-the-firefly/id608321950?l=de&ls=1&mt=8
Info
Title: Shiny the Firefly
Platform: Android, iOS
Genre: Action-Adventure
Publisher: Headup Games
Developer: Stage Clear Studios
Release: April, 25th 2013 (iTunes, Play Store)
Release price: 1,79€ / £1,49 / $1,99
Price: 2,69€ / $2,99 / £2,29
About Headup Games:
Headup Games GmbH & Co. KG is an independent games publisher located near Cologne in Germany as was awarded as the Best German Publisher in 2012 by the German Developers Association. Together with its partners Headup Games focuses on the contentment of their customers and the best gameplay experience delivered at the fairest price-quality ratio. Since its foundation the company published over 50 SKU's, including many projects from young, ambitious indie-developers, where much potential and creativity had been seen. The portfolio features high-quality games such as Super Meat Boy, The Binding of Isaac, Terraria, Limbo, Archon: Classic, The Tiny Bang Story, Trapped Dead, Grotesque Tactics, The Binding of Isaac, Q.U.B.E., and Frozen Synapse as well as the million seller and #1 iOS Hit Bridge Constructor.
More information can be found at http://www.headupgames.com
About Stage Clear Studios:
Stage Clear Studios, S.L. is a games developer (PC, consoles, tablets, smartphones) established in 2012 in Madrid (Spain). The company was founded by three professionals of the games industry:
-Daniel MarXnez Bofarull: Animator with 8 years in the games industry (Pyro Studios, Crocodile Entertainment, Pendulo Studios and Over the Top Games)
-Enrique Orrego Franco: ArCst with 15 years in the games industry (Dinamic MulCmedia, Pyro Studios, Mercury Steam and Over the Top Games)
-Daniel Santos Fonseca: Programmer with 6 years in the games industry (Electronic Arts and Over the Top Games)
More information can be found at http://www.stageclearstudios.com