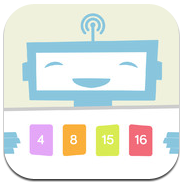 Spanish Números – 1 to 100 offers a fun learning experience that's ideal for kids as young as 4, and for adults who are starting to learn Spanish
Cupertino, ca (PRWEB) July 04, 2013
Spanish Números – 1 to 100 from Sináptika Consultoría TIC, SL is an engaging activity created by people with educational experience suitable for kids four years and over and adults in search of a fun, creative and effective way to learn how to count from 1 to 100 in Spanish – and lay the foundation for Spanish language mastery.
Unlike some other language learning apps, Spanish Números – 1 to 100 does so much more than merely present or list numbers. It goes one step further by actually teaching the relationship between each number and its Spanish equivalent. Learners simply choose text or voice mode, recorded by a professional voice actor, and increase their language ability anytime, anywhere from the comfort, convenience and privacy of their mobile device. They can also take advantage of the app's innovative VoiceOver support as well as the convenience of inputting their selections via touch, rather than needing to type answers in full.
"Spanish Números – 1 to 100 offers a fun learning experience that's ideal for kids as young as 4, and for adults who are starting to learn Spanish," commented Pedro Jorge Romero of Sináptika Consultoría TIC, SL. "And all the voices in the app are recorded by a professional voice artist in clear and precise Spanish, which creates a complete learning experience. It's a great way to lay a foundation that will eventually lead to mastery of Spanish!"
Spanish Números - 1 to 100 is available now in the App Store at:
https://itunes.apple.com/app/id662845179?mt=8.
The app is optimized for iPhone 5 and compatible with iPad and iPod touch, and has been specifically designed as a small download.
A video demo is also available at: http://www.youtube.com/watch?v=zh87vt8GSk4.
For more information or media inquiries, contact Mark Johnson on behalf of Sináptika Consultoría TIC, SL at +1 408 757 0156 or press(at)appshout(dot)com.
About Sináptika Consultoría TIC, SL
Sináptika Consultoría TIC, SL is a Spanish mobile programming company that strives to create high quality apps that are worth downloading, installing and enjoying.
Learn more at http://www.getspanishnumbers.com.