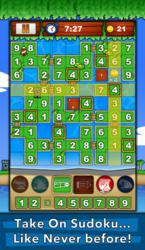 Orlando, FL (PRWEB) January 10, 2013
Sky Parlor Studios is pleased to announce an exciting update to their first Together series title - Sudoku Together.
You can now play your favorite puzzle game, Sudoku, with friends. Challenge your friends in head-to-head, turn-based play, to prove who is the fastest, with the least amount of errors. 
With engaging graphics, fun power-ups, and captivating gameplay, Sudoku Together brings a fun new twist to the beloved Sudoku puzzle classic. 
Newly Released Features:

Treasure Hunt Daily Bonus: Gain bonus keys each day to unlock treasure; find power-ups, profile cards, coins, and more!
Power-Up Leveling System: Power-ups now last longer or have an increase in effectiveness the higher they are leveled. Users can gain experience points (XP) for each power-up the more they use it; when enough XP is gained the power up will gain a level. Alternatively, users can use coins to purchase level ups for a given power-up.
No Sign-In Required: Play anonymously, or sign in using Facebook to challenge friends. 
More Achievements to Collect: Earn even more achievements through Game Center! 
New Profile Cards: Customize player profiles with over 20 different cards to choose from! New cards include Totally 80's, Femme Fatale, Power-Tuff, Queen of Hearts, and Pollen Power. 
Drag 'n' Drop Tiles: Choose between drag 'n' drop, or the original tap functionality, when placing tiles. 
Sudoku Together is available FREE for iPhone, iPad, and Android devices. For more information on Sudoku Together or the Together platform, please contact marketing(at)skyparlorstudios(dot)com. 
--
Sudoku Together is available now for iOS and Android:
iOS
https://itunes.apple.com/app/sudoku-together/id506059223
ANDROID
https://play.google.com/store/apps/details?id=com.SPS.SudokuTogether
LEARN MORE
http://sudokutogether.com
About Sky Parlor Studios
Founded in 2010, Sky Parlor Studios is a mobile development studio based in Orlando, Florida. Embracing innovative social and gaming technologies, Sky Parlor, strives to create unique experiences that enrich users' everyday lives and push the limits of how social and gaming applications enhance how we interact with those around us. With four titles previously released, Sudoku Together is the fifth title from Sky Parlor, and first in a line of Together series titles. The Together series will focus on titles that bring friends together in competitive and cooperative gameplay.