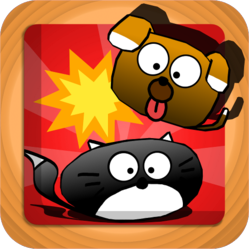 Cupertino, CA (PRWEB) November 27, 2012
Launched by Blue Bonzaï, Super Mad Cats offers fun and addictive gameplay, suitable for all age groups, and is greatly enriched thanks to original accessories and multiple possible strategies.
Furious after their house is invaded by a gang of drooling dogs, users must use their mad cats to target and remove the dogs one by one, and win back their home one room at a time.

Every dog eliminated and all damage to furniture scores points.
Pick up bonus points by taking on special challenges.
Points are converted into Cat Coins.
Use Cat Coins to boost your cats with upgrades including; precision glasses, high-energy food and protective helmet.
Win extra Cat Coins by introducing Super Mad Cats to your Facebook friends: access your account direct from the app.
Super Mad Cats, the hilarious and addictive logical platform challenge is available now as a free Universal app for iPhone and iPad in the iTunes App Store at: https://itunes.apple.com/app/super-mad-cats/id562854517
Including all 15 "Living Room" levels for free, the full version including 60 levels and Cat Coins is available for $1.99.
Available worldwide – Languages: English, French. Compatible with iPhone, iPod touch, and iPad. Requires iOS 4.0 or later. This app is optimized for iPhone 5.
Please visit http://www.blue-bonzai.com for more Super Mad Cats, including videos and more screenshots of the app.
About Blue Bonzaï
Founded in 2010 Blue Bonzaï is a French start-up created by Valentine Rochon (expert in development and operational marketing) and Nicolas Remia (computer engineer, expert in the development of touch software and interactive solutions).
Blue Bonzaï's previous background includes specializing in the development of applications for very young children designed to develop their psychomotor abilities while entertaining them. With a rich portfolio of well-received existing apps, including: Your Landscape, Funny Race, Colors and Numbers, Catch & Go.
The release of Super Mad Cats broadens their philosophy; to entertain everyone with funny and enjoyable games featuring appealing characters suitable for every age group and families. They are non-violent games, Blue Bonzaï just want their users to have a good time!
Learn more: http://www.blue-bonzai.com