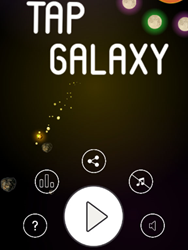 Cupertino, CA (PRWEB) April 06, 2017
People looking for a fun new one-touch arcade game that is refreshingly simple to understand and intensely tough to master, can now head to the App Store or Google Play and download Tap Tap in Galaxy.
Developed by Hammad Naeem and available at no cost, Tap Tap in Galaxy is unique, creative and ultra-addictive. Users must tap their screen to carefully navigate a girl space traveler, as she hurtles around various interstellar objects and obstacles. One tap moves her to the left, and another moves her to the right.
Along the way, users collect hearts and diamonds to boost their score. They can also grab creative power-ups, like a rocket that sends them zooming, or a force field that makes them temporarily invulnerable. That's the relatively easy part.
The hard part is that users must tap their screen often, quickly and skillfully to steer clear of dangerous asteroids, comets, black holes and planets. They must also avoid flying off the play area.
Other Tap Tap in Galaxy special features include:

Colorful detailed graphics
Great music (with mute option)
A pause button
A high score counter
Easy "how to play" instructions
"One of the biggest problems with arcade games is that they're either extremely boring and uncreative, or they take hours to figure out and start playing," commented Hammad Naeem. "That's what makes Tap Tap in Galaxy so unique. People can start playing and enjoying themselves within seconds, but the game never gets boring because there's always a new challenge ahead. It's great for playing at home, work, school, on a flight, or anywhere that people want to have some fun!"
Tap Tap in Galaxy, the fun and addictive new one-touch arcade game, is available for iOS from the App Store at https://itunes.apple.com/app/tap-in-galaxy/id1212572043, or Android from Google Play at https://play.google.com/store/apps/details?id=com.tapgalaxsy.planete. There is no cost to download the app.
For all other information or media inquiries, contact Mark Johnson on behalf of Hammad Naeem at +1 408 757 0156 or press (at)appshout(dot)com.
About Hammad Naeem
Based in Pakistan, Hammad is an expert engineer with over 10 years experience within the IT industry. Using the Build Box platform, Hammad has launched mobile games for iOS and Android devices.
View the full Press Release in the appshout! Newsroom at: http://appshout.d.pr/sdd2