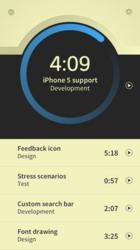 Cupertino, CA (PRWEB) June 22, 2013
People in need of tracking their time, whether for consultancy, reporting or management, can now be liberated from heavy-weight and unavaiable time-tracking systems, that are too slow or cumbersome for practical daily use.
Designed by snAPProducts, Timee is a light-weight but powerful time tracker that is optimized to reduce the amount of time spent in the app, thus keeping people productive with stuff that delivers real value. Operations such as starting, stopping or switching between tasks requires just a single tap, and since everyone sometimes forget to do these things on time, Timee has been optimized for snappy corrections as well. Furthermore, the clever text auto-completion ensures that it will rarely be necessary to type the same word twice on your handheld device.
When Timee is opened for the first time a brief and elegant tutorial demonstrates how to carry out the main use cases. After that, simply create the first task and start tracking. Timee offers both a full overview of all time tracking data, with keyword filtering options, as well as detailed and fully editable views of specific tasks.Everything is always designed to be at your fingertips.
With Timee, the data is not kept behind bars. Everything is easily exportable as a .csv file to be opened in any favorite spreadsheet application, be it all the data of all time or just a few tasks for the last week. For those looking to reduce typing boredom even further, Timee is also capable of direct export to the major project management systems Jira and Redmine.
Timee, the light-weight and elegant time tracker, is available now on iTunes at https://itunes.apple.com/app/timee/id555132776 for just $1.99. A limited version, Timee LITE, is also available at https://itunes.apple.com/app/timee-lite/id585727151 for free.
About snAPProducts
We are a small company based in the Danish capital of Copenhagen, focused on delivering beautiful and highly usable apps, for the everyday stuff that goes mostly unnoticed, but where improvements can make life easier every day.