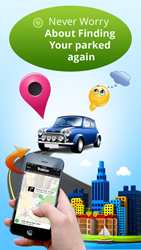 Being unable to find a parked car is a very common phenomenon around the world, TrakCar completely eliminates this problem once and for all!
Cupertino, CA (PRWEB) April 21, 2016
Drivers around the world who have fallen in love with GeniusApps Technologies' extraordinarily useful lost car finder app TrakCar – and people who have yet to download this must-have app to their device – can head to the App Store and download the latest version at no-cost.
TrakCar answers a question that millions of drivers around the world have nervously asked for decades after roaming across parking lots at the mall, airport, beach, or anywhere else: "where did I park my car?"
TrakCar solves this age-old riddle with a patent-pending artificial intelligence (AI) algorithm that automatically detects when a user shifts from driving to walking, and as such remembers the exact location of where their car is parked.
Remarkably, there are no buttons to press or physical devices to install in the car, and the app uses power-smart GPS technology so it doesn't drain your phone's battery. TrakCar does everything automatically and in the background, and never sends user data to GeniusApps Technologies' servers or any other third party.
And now in the latest version (2.1.1), users can enjoy a range of impressive new features and functions, including:

Improvements to how the app detects parking events -- such as when drivers have stopped their car to make a call or send a text, but haven't parked
Enhanced interface readability with sharper, clearer fonts and better use of varying font sizes
Better overall graphics, including maps, icons and more
"Being unable to find a parked car is a very common phenomenon around the world, especially when people arrive in a parking lot when it's barely filled, and return hours later when it's jammed with thousands of cars," commented Agnieszka Swirszcz of GeniusApps Technologies. "What's more, wandering around a parking lot can be a health and safety risk, especially late at night or in certain areas of the city. TrakCar completely eliminates this problem once and for all!"
The latest version of TrakCar, the revolutionary app that automatically knows where a user's car is even if they don't, is available now at no-cost from the App Store at https://itunes.apple.com/app/trakcar-find-where-you-parked/id986627010.
TrakCar is available in English, Spanish, Russian, Arabic, German, Chinese, Portuguese, Polish and Swahili.
For additional information, including an online tutorial, visit http://www.trakcar.io.
For all other information or media inquiries, contact Mark Johnson on behalf of GeniusApps Technologies at +1 408 757 0156 or press(at)appshout(dot)com.
About GeniusApps Technologies
GeniusApps Technologies is a startup from New York. We were founded in year 2015 by two enthusiasts with a vision of making Artificial Intelligence useful for practical applications. They believe that the time has come to make Artificial Intelligence step out of the Science Fiction into a real life.
Our team works with world-class Computer Science experts to make applications that stand out and uses state-of-the-art - and beyond - techniques of machine learning to make products that simply work.
Our first product is TrakCar - an application that automatically records the location where you parked your car. Next exciting products are being developed and are planned to be released this year.