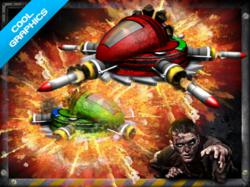 Ultimate Battle Arena is simply the best way to play together with family and friends!
Cupertino, CA (PRWEB) May 06, 2013
Gamers in search of an exciting, challenging and ultra addictive new game that will give them with endless hours of fun whether they're playing alone or battling it out against up to three friends or family members on a single iPad can now download the Ultimate Battle Arena from developer Marek Unucka.
Ultimate Battle Arena features stunning graphics, exciting sound effects, and customizable battle arenas and gameplay. And while it's challenging and requires skill and attention, it's also brilliantly designed in order to be easy-to-play, which makes it great for younger gamers and those who don't like spending hours -- or days -- learning how their newest game works.
Yet, in addition to its sophisticated gameplay, graphics, sound and customization, what makes Ultimate Battle Arena truly stand out from other apps in its genre is 14 distinctly different game modes:

DEATHMATCH: use 15+ weapons and 20+ effects to slay as many fighters as possible before time runs out
BATTLE: use 15+ weapons and 20+ effects to be the last fighter standing in the arena
FLAG: bravely capture the flag and try to survive as long as possible
TOWERS: build towers at strategic places and battle it out against skilled fighters
TARGETS: demonstrate precision and focus by shooting more targets than other fighters before time runs out
ZOMBIES: send the living dead back to the graveyard and underground where they belong
TREES: take down as many trees in the arena as possible
PORTALS: race through portals and be the first fighter to arrive in the main portal
BUBBLES: collect bubbles of a specific color and get the most points
SURVIVAL: demonstrate driving skills and avoid being hit by skulls
NUMBERS: collect specifically-colored numbers and get the most points
OBJECTS: collect all of the objects in the arena
RACE: use various weapons to obstruct other fighters and win the race to the finish line
SNAKES: avoid hitting anything and be the last fighter standing in the arena
"Ultimate Battle Arena is simply the best way to play together with family and friends!" commented Marek Unucka. "And with 14 game modes and customizable game play, it never gets boring. There's always something new, challenging and exciting to experience, and the great graphics and sound really enhance the overall experience. Plus, there are no in-app purchases, no unwelcome surprises, and the app has been thoroughly tested and approved by my most difficult-to-impress critics: my own family!"
Ultimate Battle Arena, the addictive new app that is ideal for playing alone or with friends and family on a single iPad, is available now in the App Store at https://itunes.apple.com/app/ultimate-battle-arena/id633439601.
For more information or media inquiries, contact Mark Johnson on behalf of Marek Unucka at +1 408 757 0156 or press(at)appshout(dot)com.
About Marek Unucka
Marek Unucka has years of experience in desktop application development, including 3D OpenGL/DirectX apps, security apps, and more. In 2012 he decided to jump into mobile game industry, and is also the leader of the small indie group "Secret Club Games," which is based in Brno, Czech Republic.
Learn more at http://www.facebook.com/pages/Ultimate-Battle-Arena/381215535325897.