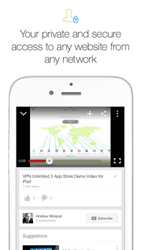 Cupertino, CA (PRWEB) February 18, 2015
Proven to be in high demand in the past 12 months, the company has already gained about 1.3 million users worldwide and it is closing to 1.5 million customers fast. Up-to-date with the latest web upgrades and app releases for new operating systems including iOS 8 and Android 5.0 (Lollypop), the company offers VPN services ensuring ultimate online security through powerful encryption along with a high connection speed without any restrictions. The secure connection is available for all major OS such as Mac OS X, MS Windows, Linux, iOS and Android. The redesigned intuitive UI offers quick access to a set of new functional features and easy-to-use options. A single VPN account can be used on up to 5 electronic devices of the customer's choice, be it desktop, laptop, iPhone or tablet.
Fresh UI Design
The Simplex Solutions Inc. team has focused on delivering a differentiated approach to secure online experience through trendy and intuitive interface design. They have put the innovation to the core of easy-to-collaborate UI. The new UI design features clarity and depth. Clarity has a simple concept meaning clean design, and simple layout as a form of communication between user and app. Whether a client wants to sign in to his account, use VPN service on different devices or switch between several dozens of server locations, the refreshed design allows to secure internet connection fast.
Renewed VPN Unlimited Features
An anonymous web surfing experience comes through the lens of the VPN service, which means no restrictions on connection speed and bandwidth. The design is leveraged to a greater extent. The improved version of the VPN app has a greater stability with quick access to security features and a wide selection of global servers. Recently, the company added new servers in Ukraine, Japan, US-Miami, US-Houston, US-Dallas, Canada-West, Hong Kong, and Romania, which are activated automatically by a single tap. Users are able to download the VPN server list manually, and have instant secure connection to any of them around the globe – or simply let the app choose an optimal server on their behalf. Customers are introduced to install all region profiles on a selected device with additional support of IPsec manual mode, PPTP and OpenVPN protocols. The new iOS 8 API allows convenient switching of locations without a need to reload the profiles. The team has done numerous app improvements for users located in China and Iran, where customers will benefit from continuous and uninterrupted service.
Affordable Pricing and Trial VPN
The VPN Unlimited service has proven to be extremely cost-efficient, making it one of the top choices for consumers' online protection. Now, the service is available starting at only $1.99 for a vacation subscription. To buy VPN version 3.0, the users are expected to visit AppStore, Google Play and company's official website.
Availability
In addition, the company has introduced the Brasil app localization, which will be highly appreciated by Portugal-speaking users, who will benefit from processing their payments through convenient and trustworthy HyperCard. Also, VPN Unlimited app is available in different localizations, including German, Japanese, Korean, Chinese, Russian, and Turkish.
Covering safe online banking, keeping private web entertainment activities, securing any kind of Internet connection especially WiFi, giving access to territory-restricted content and the most favorite shows, with VPN service there are much more possibilities with 100% assurance of the online security, protection and anonymity.
About Simplex Solutions Inc.
Simplex Solutions Inc. has already gained the popularity through the development of the quality products and services for iOS, Android OS, Mac OS X, MS Windows and Linux.