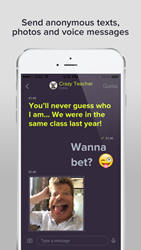 While Whatsapp, Line and WeChat apps are amazing messengers to communicate with your contacts, they are all very serious and classic. We wanted to give friends a way to engage with each other in a fun, unique and gamified way
Cupertino, CA (PRWEB) November 04, 2014
Anonymous letters and messages have always existed. They're exciting and fun but can be a little creepy too. But what if it is done in a friendly environment and if it is just a game with a way to guess? iPhone users who wants to play with their friends, trick them or just send a love declarations to their loved ones can now do it in a fun and safe way by downloading the new, friendly and fun free app Whoo messenger developed by Whatt, Inc.
Whoo is a game. Users start by shaking their phone to choose a disguise among the cute and fun animal avatars and then engage anonymously with theirs friends. They can send hilarious and fun voices and photos by applying special effects that will keep them unrecognizable. Users can play tricks with their friends, check their reactions and keep the mystery on until their identities are discovered. They can then start over a new discussion with a new disguise.
Whoo is friendly. It is the first messenger to let people be anonymous in a friendly and secure environment: their Facebook friends. It's thrilling to receive an anonymous message and even more fun when users know that it's coming from one of their friends. Even friends can be annoying sometimes so users can still block their anonymous friends until they reveal their identities.
Whoo is a messenger. With a beautiful and simple interface Whoo is yet a real one on one messenger app with push notifications, live chat system, delivered and read notifications and the options to send photos and voice messages. Whoo is also the first messenger to include fun effects to change the voice and deform the photos. When the game is over, users can keep the conversation going sending unique and hilarious messages to each other.
"While Whatsapp, Line and WeChat apps are amazing messengers to communicate with your contacts, they are all very serious and classic. We wanted to give friends a way to engage with each other in a fun, unique and gamified way," commented Simon Berger- Perrin, founder of Whatt, Inc. "And that's why we created Whoo! We are giving users a very unique messenger app to send mysterious messages, fun photos and hilarious voice messages to their friends. It's exactly what millions of students have been craving -- and now, after months of extensive development, it's finally here!"
Whoo, the new app to play with friends and send them anonymous messages is available now at no-cost on the App Store at: https://itunes.apple.com/us/app/whoo-messenger/id881070956
Additional app information is available at http://www.getwhoo.com.
About WHATT, Inc.
WHATT, Inc is a mobile studio developing social applications for iPhone. Whoo, a messenger to send anonymous messages to your friends is the latest app to be released. Previously WHATT, Inc. had launched Whatt, the first app to focus exclusively on status updates between close friends. Both apps are available to download for free in the App Store. WHATT, Inc. is based in New York City and was founded in 2013 by Simon Berger-Perrin, who for the 14 years prior to creating WHATT was responsible for driving mobile strategy at OLX and Match.com Europe.