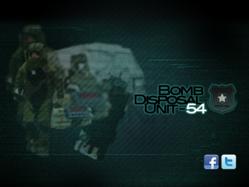 The game takes the simple concept of memory testing and puts you in a high octane environment.
(PRWEB UK) 2 May 2012
Popular app developer AppStart has announced the launch date of new game, Bomb Disposal Unit 54, aimed at testing the mental agility of users in a tense, against-the-clock show down.
Bomb Disposal Unit 54, released on May 6 2012, asks the user to solve simple puzzles in a way that claims to be both addictive and challenging.
The game revolves around solving the puzzles to gain access to diffuse bombs in various locations of a dark city, but this must be done in a tense against-the-clock showdown.
Priced at just 69p, Bomb Disposal Unit 54 will be available for iPhones and iPads through the Apple App Store.
The Salford-based company spent two months developing the app to a high quality and aimed to keep the gameplay relatively simple while maintaining a challenging and exciting edge to the game itself.
Shaun Larkin, graphic designer for AppStart said:
"The game takes the simple concept of memory testing and puts you in a high octane environment where the real-time elements of the game test both the speed and accuracy of your reactions to the task.
"The graphical edge of this game really takes it to the next level compared to others on the market. The soundtrack and sound effects are completely original and were composed and written on-site.
"Unlike other games of this genre, it is aimed at a more mature audience."
AppStart was established in March 2011 and has since grown from just two employees to a staff of more than 20 developers.
So far AppStart have developed some 28 apps available in the Apple App Store including the popular Pigs Might Fly, Splat 2D and 51 Alien Outbreak.
To view the trailer for Bomb Disposal you can visit AppStart's YouTube channel.
A limited number of free downloads of the game are available and AppsStart are inviting members of the press to get in touch to receive a promotional code.
For more information or further comments contact the press office on media(at)appstart(dot)org(dot)uk or ring Matt Dyas at 0161 728 5283.