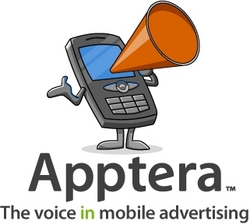 Apptera has created a highly effective and innovative mobile advertising solution for a large, untapped market.
Sunnyvale, CA (PRWEB) June 21, 2010
Apptera (http://www.apptera.com), the leading voice and visual mobile advertising network, today announced that it closed a $10 million Series B financing. The investment was led by New World Ventures. Also participating in the round were existing investors Lightspeed Venture Partners, Alloy Ventures, and Walden International. Matt McCall, Partner at New World, will join Apptera's Board of Directors.
"Apptera's team and innovative approach to mobile advertising clearly stood out," said Matt McCall. "Apptera has created a highly effective and innovative mobile advertising solution for a large, untapped market. New World invests in companies with strong management, differentiated technology and the ability to capitalize on large, fast growing markets. Apptera fits the bill in every respect." Apptera joins other New World investments which include Playdom, Zinch, TopSchool, TicketsNow and LeftHand Networks.
Apptera's proprietary ad-serving technology enables marketers to effectively reach and engage a large and valuable mobile audience while enabling publishers to monetize their phone channel and enhance their customer's experience with relevant messages. Apptera's voice and visual mobile advertising technology dynamically inserts relevant and interactive audio messages into calls and allows advertisers to target their messages based on a variety of targeting parameters such as a caller's location, mobile carrier, interests and behavior. Apptera's audio ads are also the starting point for a wide range of visual engagements and mobile interactions. Consumers who opt-in to Apptera voice and visual ads can receive instantaneous or scheduled SMS text messages; mobile coupons or links to mobile web sites and smart phone application downloads; MMS messages with embedded videos formatted for their devices; enhanced call services such as immediate transfers to, or callbacks from, sales agents; or offers to various products or services billed directly by their mobile carriers.
According to Henry Vogel, Apptera's CEO, "this latest financing and our new partners will help fuel our continued expansion. We chose New World Ventures because of Matt's deep domain expertise and collaborative approach. Moreover, leveraging New World's broad network will help us achieve our long-term vision of re-inventing mobile advertising. I'm excited to work with New World and our existing partners at Lightspeed, Alloy and Walden on our next phase of growth."
About Apptera
Apptera powers the world's leading voice and visual mobile ad network, generating revenue for leading players in the entertainment, communications, social media, financial services, retail and other industries. Apptera's award winning MobileAd Xchange™ delivers relevant voice advertisements in-call as well as follow-on visual mobile engagements, such as SMS and MMS messages, mobile video, smartphone app downloads, click-to-call and more. Members of the Mobile Ad Xchange and customers of Apptera's technology include AT&T's 1-800-YellowPages, AOL Moviefone, MovieTickets.com, Fandango, iCall, Arsenal Interactive, Bank of America's ATM locator, SaveMart Supermarkets, GSI Commerce, and many others. Privately funded by leading venture capital firms including Lightspeed Venture Partners, Alloy Ventures, Walden International and New World Ventures, Apptera has offices in Sunnyvale, Los Angeles, and New York City. For additional information, visit http://www.apptera.com.
About New World Ventures
New World Ventures, closely affiliated with The Pritzker Group, is a venture capital firm investing in technology companies with exceptional potential and helping these companies become market leaders in their space. New World's sector focus includes enterprise-focused solutions (e.g. SaaS, telecommunications, IT infrastructure, technology-enabled services) and Internet-driven businesses (e.g. interactive marketing, e-commerce, social networking). New World's dedication to active investing and its commitment to long-term business building have helped its companies achieve outstanding success. For additional information visit http://www.newworldvc.com.
Contact:
Jeff Becker (Apptera)
408-636-4133
# # #