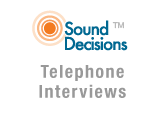 "We saw a strong business case for SoundDecisions early on and plan to utilize their life insurance rules engine in the near future." said Dan Acker, Vice President at Sentinel.
Boca Raton, FL (PRWEB) March 20, 2012
Apptical™, a leading provider of electronic application,teleunderwriting, and life insurance rules engine solutions to the insurance industry, today announced that Sentinel Security Life Insurance Company (Sentinel) now utilizes Apptical SoundDecisions™ to better serve their field agents in the final expense market. With SoundDecisions, Apptical Interviewers conduct secure, scripted, recorded telephone interviews with field agents and applicants at the point of sale.
Sentinel, based in Utah, is utilizing Apptical SoundDecisions to conduct insurance telephone interviews, trim operational costs, and ultimately enable the licensed field agent to present a non-binding offer at the point of sale. Apptical interviewers can conduct both inbound and outbound telephone interviews. Interview results are archived and received from Apptical with no paper, no human intervention, lower costs and fewer errors.
"As a small-face-amount insurance provider, Sentinel can benefit from Apptical's service. We wanted to stay close to our field force and add protective value," said Dan Acker, Vice President at Sentinel. "We saw a strong business case for SoundDecisions early on and plan to utilize their life insurance rules engine in the near future."
The SoundDecisions life insurance telephone interview service consists of Apptical telephone interviewers available to complete inbound or outbound interviews during normal and extended business hours. Apptical interviewers use the SoundDecisions application to conduct interviews and collect valuable underwriting information. The resulting data and the audio recording for all interviews conducted across the Apptical SoundDecisions platform are stored in a database and immediately accessible. The Sentinel home office uses the SoundDecisions Client Portal to access data, images, and audio recordings securely over the Internet. In the future, Sentinel will take advantage of the Apptical total-instant-fulfillment promise where all data, images, and audio recordings are transmitted to the Sentinel home office for integration into Sentinel's new business system.
"Sentinel has been at the forefront of Final Expense insurance for quite some time," said Peggy Bartraw, Director of Operations at Apptical. "Apptical SoundDecisions empowers Sentinel to make final decisions and issue policies faster and more accurately than they normally would. If challenges arise, they can be resolved faster than ever because the Underwriting and New Business departments can listen to interviews moments after the interview is complete. Agents benefit because commissions can be paid faster and applicants benefit from faster policy issue."
About Sentinel
Sentinel was organized in 1948 by a group of Utah funeral directors for the purpose of providing the public with an insurance product designed to help pay funeral costs at the time of need. Some of the original founders still serve the Company as members of the Board of Directors.
Sentinel is licensed to operate in 23 states, namely: Utah, Arizona, California, Colorado, Florida, Hawaii, Idaho, Iowa, Kansas, Louisiana, Minnesota, Montana, Oklahoma, Nebraska, Nevada, New Mexico, North Carolina, North Dakota, Oregon, South Dakota, Texas, Washington, Wyoming.
About Apptical
Apptical is the leading provider of on-demand, inbound, point of sale life insurance telephone interviews, electronic applications and rules engine solutions. LiveApp, SoundDecisions, and PURE are provided to clients across the United States and Canada. For more information visit http://www.apptical.com.