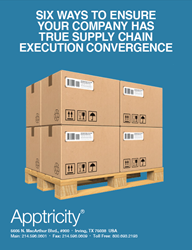 Today's comprehensive, converged systems can dramatically improve supply chain execution. They offer enormous and wide-ranging benefits that can help all involved, including customers.
Dallas, TX (PRWEB) October 02, 2013
For logistics-driven companies, advances in mobile computing and communications in the last decade now are leading us toward what Gartner has called true Supply Chain Execution Convergence. The potential gains – lower costs, increased efficiency, less waste, reduced environmental impact, higher customer satisfaction and overall improved profitability – are simply too big to ignore.
However, corporate executives and planners should proceed carefully in positioning their companies to get the highest return on their investment in converging supply chain execution technologies.
To offer some guidance, Apptricity Founder and CEO Tim Garcia has outlined six rules of thumb to follow when considering various supply chain management solutions on the market.
1. Invest in Systems Based on Service-Oriented Architecture. Your best bet for the future is to go with a modular-systems approach that allows lots of separate programs to work together as a defacto unit, or single silicon-based organism. Service-Oriented Architecture-based systems give companies the ability to design their interface(s) with the system to meet the company's existing operational terminology and practices, and to mesh with the varying abilities and technology comfort levels of employees in various departments. It also should allow companies to bolt on new applications to address evolving needs as mobile IT and communications technology continue to advance at a breakneck pace.
2. Keep It Simple by Aiming For Zero Modification Implementation. Traditionally, logistics companies bought off-the-shelf management systems and had to significantly modify underlying programming codes to accommodate their terminologies, business practices and even the physical constraints of their warehouses and vehicles. That's an expensive process. You can avoid much of that cost by investing in systems that require little or no underlying code modifications when you install, and relatively small code modifications when you upgrade them.
3. Keep the Focus On Users at All Levels. The conventional view of logistics systems has been that they're a necessary evil. The only people who interacted with those systems were warehouse managers and the billing department. But now these systems are in some aspects visible to everyone from the CFO to the customer. It is critical that a logistics system user interface be easy enough for hard-working drivers and warehousemen to input critical data from the field with ease while also packing the analytical capacity needed for managers in marketing, finance and production who need to draw out critical data in real time.
4. Know That Smartphones and Tablets Aren't the Final Answer. Rapid advances in the means and quality of mobile communications has changed logistics management more in the last 15 years than it changed in the previous 1,000 years. So while your wirelessly connected drivers and warehouse managers might still occasionally wax nostalgic for the days of clipboards and pens, you should be looking ahead toward what will replace smartphones and tablets. Whatever it turns out to be, corporate logistics, IT and financial managers and planners need to understand the value of current and future alternative user interfaces when acquiring their new logistics management systems.
5. Consider the Cloud Seriously. Cloud-based computing, together with "Software as a Service" (SaaS) applications are revolutionizing the business world. Increasingly logistics companies are being driven to consider the cloud and SaaS solutions because the lower capital commitments and predictable operating costs fit better with evolving business models that are focusing ever more attention on ways to reduce inventory costs while simultaneously increasing logistical flexibility.
6. Keep Supply Chain Execution Convergence in the Forefront of Your Planning. Corporate managers would be wise to view their logistics management systems of the future as comprehensive, converged platforms that support the entire supply chain. Comprehensive logistics IT platforms will eliminate the need for separate systems along the supply chain as well as the need for expensive and time-consuming patches to make them talk to one another. Converged logistics systems can set a company up not only to reduce and control costs much better but also to provide faster, more accurate service to customers while reducing logistics workers' frustration and improving their morale.
"Today's comprehensive, converged systems can dramatically improve supply chain execution," said Garcia. "They offer enormous and wide-ranging benefits that can help all involved, including customers. And that's what really matters in the end, because happier customers mean bigger sales."
For more information, download the detailed white paper at http://inbound.apptricity.com/ebook-6-ways-to-ensure-true-supply-chain-execution-convergence.
About Apptricity
Apptricity provides innovative software applications that help companies of all sizes run better and maximize their resources. Our applications deliver critical real-time intelligence to your mobile device, keeping you connected to the office, the warehouse, and the final destination. Jetstream, our revolutionary platform, enhances legacy ERP applications and extends the value of IT investments to sharpen your competitive edge. Jetstream solutions unify objectives for Fortune 500 companies, government agencies and the military with accelerated business processes and command visibility. Our solutions evolve to help your enterprise operate more profitably and grow. For more information, visit http://www.apptricity.com.