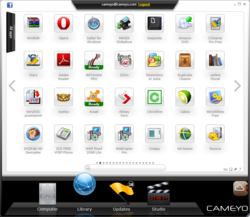 Cameyo app virtualization is to become the first agentless virtualization product to support Windows 8
(PRWEB) May 30, 2012
The upcoming version 2.0 of Cameyo app virtualization is to become the first agentless virtualization product to support Windows 8.
Cameyo 2.0, currently available for anyone as a Release Candidate on http://www.cameyo.com, supports virtual application packaging and deployment on the new operating system, for both 32-bit and 64-bit applications.
Cameyo 2.0 will allow anyone access to application virtualization, with an ease and user experience never seen before. Among the highlights of the new app virtualization version:

Tight integration with Cameyo Online's cloud platform and Cameyo's Online Library.
CameyoBox: holds personal virtual apps in the cloud, making them available from any computer
Revamped, powerful UI.
Management of local & cloud virtual apps.
Virtual shell integration: a virtual layer making apps appear in Windows as if they were installed, and can be un-integrated in a fraction of a second.
One-click auto updating capability.
Community-based library of virtual apps with possibility to vote and provide feedback about apps.
Ghost Capture: allows building virtual packages by installing applications directly into a virtual sandbox, without affecting the real computer.
Hot-patching feature capability: allows updating virtual applications while in use.
Launcher mode: providing a launcher menu for virtual apps.
Windows 8 compatibility.
Virtualization engine improved and faster.
Multi-language support: English, Spanish, French.
And more…
About Cameyo:
Cameyo is a popular application virtualization product bringing innovation and simplicity into its field. Since its launch a year and a half ago, it has been the fastest growing application virtualization product, and has been selected by PC Magazine among the best free virtualization products of 2011 and 2012. Among its most notable innovations are: online cloud packaging technology, one-click packaging, virtual shell integration. Cameyo's mission is to make Windows applications easy to try, use, move and remove.
A video presentation of Cameyo is available on: http://www.youtube.com/watch?v=FSZQzKR9mZE
All products and services mentioned are the property of their respective companies.
Windows Azure is a registered trademark of Microsoft Inc, which has no affiliation with Cameyo.