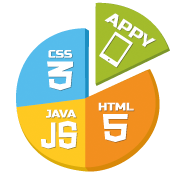 New York, NY (PRWEB) December 03, 2014
Serving clients with contentment, a leading cloud-based mobile app maker, Appy Pie now announces 'Kids Around Perth' app as the App of the Month. They are renowned for being a leading online application developer company that operates on diverse mobile operating systems. With this, the Kids Around Perth app's Android version is already available for download at Google Play and iPhone version at iTunes. They are one of the truly experienced app builders, who allow novice clients to build apps.
What all is required to build an app? It is very simple and indeed free of cost- One needs to sign up and input the information! They offer diverse mobile app builders such as Create Android App, BlackBerry App, App maker, and iPhone App. There is no doubt that the company provides their clients an opportunity to select the required features that already exist and can also ask for the custom features option.
Appy Pie Features

Free of cost app building
App can be created in just few minutes
Coding skills are not essential
Apps to be published and shared precisely
About Mobile Application Development Company, Appy Pie-
Appy Pie is trademark of Appy Pie Inc. Appy Pie is the world's #1 cloud based Mobile App maker Software that allows everyone to create free mobile apps. Appy Pie is Custom Mobile Application Development software that allows anyone with no technical knowledge to create advanced applications for mobiles and smart phones. Nothing to download or install, no programming required, just drag & drop.
For further details, please visit http://www.appypie.com/