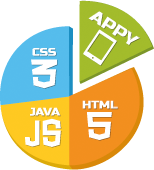 Appy Pie has some of the most innovative features that makes the process of creating apps for small businesses very simple and pleasurable at the same time
New York (PRWEB) December 02, 2013
Appy Pie's app builder is the fastest growing cloud based DIY Mobile App Builder or App Creation Software (App Maker) that allows users with no programming skills to create an app for all major platforms like iOS, Android, Windows, BlackBerry, etc. Every day hundreds of apps are created using their platform and every month a winner is shortlisted based on the following criteria including level of commercial success, app speed, overall utility, and quality of user experience and presentation. This month the app that caught judge's attention based on the above criteria was Sleep Tonight App, and it was awarded as the Mobile App of the Week. The app is available on iTunes, Google Play store.
Appy Pie has some of the most innovative features that makes the process of creating apps for small businesses very simple and pleasurable at the same time. Following is their feature list:
1. Build an App in Minutes with App Pie's App Maker
2. No Coding Skills Required. Just Drag & Drop.
3. Publish on App Stores, Google Play & iTunes.
4. App Revisions/Updates are Real Time.
5. Send Push Notifications.
6. Apps can be easily Monetized with Ads.
7. App publishers get real-time App Analytics.
8. Passbook Coupons for iOS6 & 7
9. GPS Location Tracking
10. Social Profile Integration: Facebook, Twitter, Youtube
11. Photo Gallery Integration: Instagram, Flickr, Picasa, Custom
12. Pocket tools: GPS Location Tracker, Camera, Mortgage Calculator
13. Student Tools: Dictionary, Khan Academy
14. Restaurant Tools Integration: Menu builder, OpenTable,
15. Blog Integration: Wordpress, Blogger, Feedburner
16. Audio & Radio Integration: Soundcloud, Beatport, Shoutcast
17. Contact Features: One Touch Call, QR Code, Website Integration
18. Appointment Scheduler for Doctors, Dentists, Salons, Spas
19. Code Page to add custom code, embed iframes
20. Share App with Friends.
About Mobile Application Development Company, Appy Pie:
Appy Pie is trademark of Appy Pie Inc. Appy Pie is the world's #1 cloud based Mobile App maker Software that allows everyone to create free mobile apps. Appy Pie is Custom Mobile Application Development News software that allows anyone with no technical knowledge to create advanced applications for mobiles and smartphones. Nothing to download or install, no programming required, just drag & drop. Appy Pie was born in New York in 2011 & at this point more than 5000 apps are produced each month using the Service.
To make mobile app or to become a mobile app reseller, visit http://www.appypie.com/