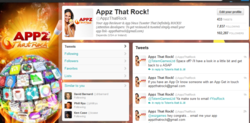 The @AppzThatRock Twitter feed has exceeded 100,000 followers less than seven days after making its tweeting debut.
Duluth, GA (PRWEB) April 24, 2012
AppzThatRock, a new Twitter account that offers reviews and news on the best Apple iPad, iPhone and iPod apps, has accomplished in under one week what even many celebrities take months and years to do. The @AppzThatRock Twitter feed (https://twitter.com/#!/AppzThatRock) has exceeded 100,000 followers less than seven days after making its tweeting debut.
To put @AppzThatRock's achievement in perspective, the Associated Press reported last year that former President Fidel Castro had passed 100,000 followers. It took the controversial political figure "about a year" to reach such a fan base. In comparison, AppzThatRock cleared that milestone marker in less than 1/50th of the time. In fact, in recent weeks, only the much beloved 90-year-old comedienne, Betty White, has been able to one-up @AppzThatRock. When she joined Twitter in early April, she garnered over 100,000 followers overnight.
Even more eye-opening is the fact that Twitaholic's ranking of the top 1,000 Twitter accounts reveals that just over 800,000 followers are required to make the cut. At its current follower-scoring pace, AppzThatRock will break into that elite group by year's end. Even at the bottom of the rankings, it will rub shoulders with the likes of Warren Sapp, Venus Williams and Dave Matthews.
So how did the Apple app reviews and news account accomplish in so little time what it takes even celebrities months to years to do? Appealing to tech-savvy iPhone, iPad and iPod addicts didn't hurt. But the real credit is owed to a grassroots Internet marketing push. "We put everything we had in terms of marketing efforts and capital behind AppzThatRock to ensure it actually did rock," explains the Twitter account holder. "Our aim was to destroy our competitors quickly."
Now that the Twitter feed has accomplished that aim, surpassing 100,000 followers at the breakneck pace of under seven days, it has its sights set on a new goal. "Next on our agenda is to respectfully beat the top dog in our space: https://twitter.com/#!/cultofmac. Our ultimate goal is to be the number one leader in this space on Twitter." As of press time, that @AppzThatRock opponent had 263,791 followers, making overtaking it very doable before the end of summer.
To take itself straight to the tweeting top, AppzThatRock is already preparing a new marketing campaign, and its account holder is not leaving anything to chance. "We are currently busy acquiring advice from a panel of social media gurus. We're also putting more money behind this campaign to make it the best Apple app feed out there."
To see the rocking effort that is being put into making AppzThatRock the number one Apple app review and news feed on Twitter, visit https://twitter.com/#!/AppzThatRock. To become a follower of the @AppzThatRock Twitter feed, click on the Follow button in the upper right-hand corner of the page.