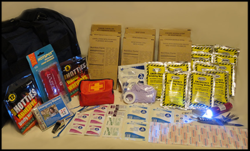 We're ready, are you?
Colorado Springs, CO (PRWEB) August 28, 2012
Across the nation, Americans are taking an interest in emergency preparedness and survival homesteading. People are raising an interest in becoming self-sufficient, and are prepping themselves for economic states, natural disasters, and emergencies.
A-Pack Ready, LLC (APR) has been formed specifically for this group of Americans. Education in emergency preparedness awareness is essential, and at the core of the company's foundation. Their products have been chosen specifically for their low cost, as well as quality.
APR's focus is on beginning survivalists, that are new to the prepping lifestyle. They strive to give their customers a root knowledge to grow from.
While some companies have risen to serve this growing number of prepping Americans, very few have taken into consideration the group of Americans that don't understand how to prep, or lack the finances to prep on the scale huge companies promote them to.
A-Pack Ready was formed as of May 31, 2012 as a Limited Liability Company, and is in good standing with the Colorado Secretary of State. Formed and founded by husband and wife, Daniel and Audrey Boland, they work to provide the best service and information possible.