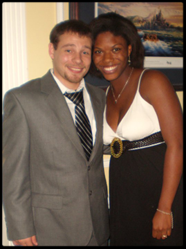 Not every business owner has the blessings that we've experienced....We had a dream, and with God's help, we're seeing that dream become a reality.
Colorado Springs, CO (PRWEB) September 13, 2012
The end of August found the owners of the newly formed company A-Pack Ready, LLC extremely preoccupied. In the midst of preparations for the Seratoma Gun Show on September 8th and 9th to display their emergency preparedness products and bug out bags, the couple also found themselves recreating their website. "The website design and webhosting company we originally went with seemed like a great idea at first because of a 30 day trial and some other offers," Audrey recounted.
After a couple of months, however, it became very apparent to the small business owners that with the monthly costs to operate, they wouldn't be able to keep their low prices on the majority of their items for very long. "We started looking for some other alternatives after about two months," Daniel adds.
The couple spent about a week calling and talking with multiple hosting and website design companies. Although some seemed promising, nothing was as profitable as the solution an old friend proposed to them.
"This is where we believe that God is faithful in blessing this venture with us," Daniel and Audrey confessed. The couple had ties to an accountant, Mark Sharman. Due to their shared beliefs in Jesus Christ, he offered to support them getting their business off the ground by hosting their website and providing accounting and business planning support for free..
The couple describes their relationship with their new accountant, Mark Sharman, owner of Crossroads Accounting, LLC, as a blessing. "I worked with Mark several years ago," Audrey states. The two were stationed in Albany, Ga, in the United States Marine Corps Band. "Ever since I've known Mark he's always been the type to help out in any way that he can." And he's proving to be a great help to the budding company now.
Mark has several customers for his newfound business. His blog, The Sum of Business, provides business management and accounting resources, articles, and information to support small business owners in building successful businesses.
Daniel and Audrey Boland are both very hopeful and optimistic for the future. "Not every business owner has the blessings that we've experienced," Daniel states. His wife is in agreement with him, "We had a dream, and with God's help, we're seeing that dream become a reality." The couple is very grateful for the assistance Mark is offering at this moment in their business. "We believe in men receiving pay for an honest day of work, so as soon as we're able to bless him back with pay, we intend to."
When asked about the Gun Show this past weekend of September 8th and 9th, the couple becomes animated. "The turnout was a great experience for everyone. Several people were interested in the free information flyers we passed out in recognition of National Preparedness Month," and many more enjoyed sampling and handling their products.
"It was really amazing to get to talk face to face with our customers. To share with them our passions and focuses for the future," Audrey states. When asked if Gun Shows will be a future venue for public showings of their company, the couple agrees in unison, "Absolutely. Even if it's not as successful as we had hope, the interactions are gold."
APR was formed as of May 31, 2012 as a Limited Liability Company. In good standing with the Colorado Secretary of State, this company's mission is to educate Americans in the need to prepare for themselves as well as their family; and, to provide a way for those with little finances to begin preparing as well.