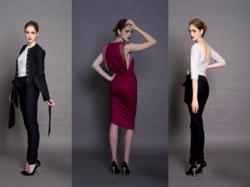 We are proud to support and showcase a young talented Toronto-based fashion designer whose designs are a perfect addition to our existing unique clothing collection.
Toronto, Ontario (PRWEB) May 02, 2013
Apricot Collection, the new online clothing store, is pleased to support the amazingly talented upcoming Toronto-based designer, Tetiana Kachurak.
While on the hunt for finding unique, different pieces to add to her new online women's clothing store, the founder & CEO, Michelle Herscu, came across the Tetiana K Clothing brand, after Tetiana herself responded to Apricot Collection's ad looking for young Canadian fashion designers who'd like to showcase their line on Apricot's website.
Herscu fell in love with the collection instantly as it represented all the things she was looking for in a new brand: elegance, effortless look and chic with a twist; whether it's a bow (Tetiana's signature), a zipper or raffles.
For Kachurak, who first started drawing clothes and then making them for herself from a very young age, her inspiration comes from fabric. One of her favorite parts of designing a collection is looking at different fabrics. "As soon as I touch them I start to get tons of ideas or apply ideas I have had from before. I am constantly sketching and filing away detail and piece ideas but sometimes they are unused for years until I find the right fabric for them. I am a fan of taking specific details and playing with them and recreating them in different fabrics and garments".
Kachurack's style icons are the classic starlets as Grace Kelly and Audrey Hepburn. "Their style is unbeatable – super feminine and classic," she says. This explains the ideal woman Kachurak designs for: "Someone that is either a young lady who is ready to step into a more elegant wardrobe but still wants to keep her looks youthful and fun, or a woman who loves to be feminine, dress up, and look pretty."
The designer's collections consist of classic, elegant pieces that are never too close to the trends, making them easy to wear season to season. Nowadays she's working on her 6th collection and she definitely sees that there's been a change from one collection to another, as "every season I learn more about my customer and get inspired by different things and trends."
Kachurak loves interacting with her customers and has so far participated several times in the famous "One Of A Kind Show" that runs twice a year in downtown Toronto. Her 5-year plan? Having a home in her own retail boutique. In the meantime, it is Apricot Collection's pleasure to have the opportunity to showcase Tetiana K Clothing and promote the line.
About Apricot Collection:
Apricot Collection is a Canadian-based online company which came to life after Michelle Herscu, founder & owner, decided to combine her love to fashion with her love to business. She always felt like the market wasn't offering enough and online stores usually target one audience, whether it's young girls or just a specific style. That's why today she's always looking for new brands to add to the collection and each piece represents a different style for various occasions. Another element that's important to her is to ensure quality is never compromised. Whether it's classic-chic, feminine, bohemian or vintage, Apricot Collection offers them all, and as time progresses, the company adds more brands and new styles.