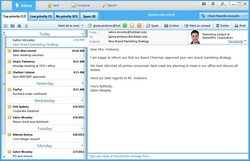 We want to help busy people overcome email overload with the help of software...Now, we have advanced towards this aim.
(PRWEB) April 26, 2011
It took the Web CEO Team about six months to convert EmailTray (formerly an add-on for MS Outlook and a smart notifier for Gmail, Yahoo, Hotmail/Live and AOL) into a full-fledged and feature-rich email client. EmailTray efficiently combines the functions of an up-to-date "socialized" email client and a smart notifier that tells its users only about new important email.
Its main difference from email clients like Outlook and Thunderbird is that it recognizes, sorts and notifies users about priority email messages via a smart algorithm.
Once EmailTray is set to track incoming mail from all accounts, its users can simply forget about checking for email all the time and enjoy fewer interruptions in their work – EmailTray will notify them if something really important arrives and it delivers email from all accounts simultaneously, so they can rest assured that no important email is missed.
"EmailTray has changed its look and feel (no more dull grey interface) and it has added a lot of hot and unique functions, while it continues to express that cornerstone idea that has been inspiring our team for years – we want to help busy people overcome email overload with the help of software. With smart algorithms that recognize and sort important email, we want to create a state-of-the-art communication hub for each of our users. Now, we have advanced towards this aim" – said Viktor Tatarov, CEO and Chief Product Architect of Web CEO/EmailTray.
EmailTray is ready to become an indispensable tool that improves the productivity of any busy person. Here are some more features that make EmailTray so helpful:

EmailTray delivers all email into several folders: Top Priority, Low Priority, No Priority, and Spam. If there is a conflict in the application of our priority rules for a message, the program will suggest that the user manually revise it.
EmailTray handles spam intelligently: in addition to its delivery from all source spam folders to the main spam folder, it recovers all good messages that were misidentified as junk mail.
EmailTray will show a photo from a contact's social profile on Facebook or LinkedIn.
At any moment, the EmailTray user can look at the desktop tray icon and see if there are many unread important messages. Plus, EmailTray brings its users' attention to email only when a top priority message has arrived. It notifies about important messages with a pop-up ticker and/or sound.
Viktor Tatarov further shares some of his team's development plans: "The next step we are going to take is moving to our users' phones, a version for mobile devices is on the way".
About EmailTray: EmailTray (formerly SenderOK) (http://www.emailtray.com) has been developed by the world famous Web CEO team (http://www.webceo.com) that has created the most popular search engine optimization (SEO) software in the world. The company is located in Kherson, Ukraine, a growing center for software/Web development.
###