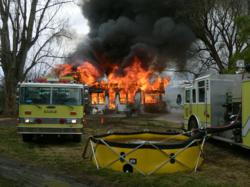 Fastest set up of any folding tank on the market today!
Meridian, Idaho (PRWEB) April 22, 2013
Tank and bladder manufacturer, AIRE Industrial, debuts its wild land fire tank to the trade for the first time during the FDIC show. The Yellow Jacket was recently deployed during a training exercise with the Eagle fire department and received much praise. According to the firefighters on scene, the tank was the simplest and quickest set up they had ever worked with. It took just one person to deploy, and the task was accomplished in seconds, not the usual minutes.
Other aspects of the tank that scored high marks with the crew were the compactness of the tank as well as the lack of loose parts. Space is at a premium on trucks and not having to hunt for loose parts is a big time saver. The light weight and small footprint of the deployed Yellow Jacket also impressed the firefighting team.
Though the tank is designed for fire fighting, states Tim Lewis, Business Development Director, "The Yellow Jacket is well suited to other water storage and capture operations such as remote site potable water tanks, grey water capture, sediment ponds and oil/disaster clean up."
AIRE Industrial will be located at booth 9828 inside the Lucas Oil Stadium. The team encourages attendees to visit and learn more about the Yellow Jacket and other tanks and bladders manufactured and sold direct to the public. The FDIC show runs from April 22 through April 27 at the Indiana Convention Center | Lucas Oil Stadium, Indianapolis, In.
For more information on this and other liquid storage solutions, contact Aire Industrial, 2021 E Wilson Ln, Meridian, Id 83642, 1-800-247-3846 or visit http://www.aireindustrial.net where information, photos and supplemental chemical compatibility charts can be found.
About AIRE Industrial:
Located in Meridian, ID, AIRE Industrial has combined its technical knowledge and manufacturing expertise of flexible textiles to provide liquid containment products and spill prevention solutions for government agencies, military, agriculture, environmental containment, and the wild land fire suppression industries.
The founders of AIRE Industrial are outdoor enthusiasts, protectors of the environment, and take pride in using American sourced materials and keeping jobs local. AIRE Industrial offers a complete line of flexible storage tanks and bladders as well as portable secondary containment berms, spill kits and containment products. AIRE Industrial has offices in Idaho, Washington, North Dakota, and partners in Europe, Asia, North Africa, New Zealand, The Middle East and South America. AIRE Industrial is a division of AIRE Inc. AIRE Inc. is the largest inflatable boat manufacturer in the U.S. and is recognized around the world as the premier builder and innovator of water recreation crafts. The majority of professional river guides trust their lives and reputation on the quality and durability of Aire inflatable boats and personal recreation craft.