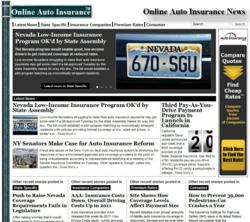 Los Angeles, Calif. (PRWEB) April 29, 2011
Average policy prices rose slightly, governors in Mississippi and Montana vetoed coverage-related bills, Arizona enacted a ban on crash taxes and a new report indicated that about 1 in 7 American drove uninsured in 2009. The following summary sheet wraps up a few of March's most significant auto insurance news stories covered at News.OnlineAutoInsurance.com:

The latest Consumer Price Index report showed that the price of insuring a vehicle rose just one-tenth of 1 percent between February and March. Policy prices in March 2011 were 4 percent higher than in March 2010. Source: http://www.bls.gov/
A new study estimating uninsured-motorist rates at the national and state levels indicated that approximately 13.8 percent of drivers in the country were uninsured in 2009. Massachusetts had the lowest proportion of uninsured motorists with an estimated 1 in 25 drivers lacking auto insurance; Mississippi had the highest with approximately 1 in 4 drivers on the road without a policy.
A legislative push to help temper Mississippi's high uninsured rate hit a road block when Gov. Haley Barbour announced he was vetoing legislation to set up a policy-verification database in the state. Gov. Barbour cited insufficient analysis of the database's costs but said he would be amenable to a revised bill that addressed his concerns.
Another car insurance proposal was vetoed in Montana. Legislators had narrowly passed a "no pay, no play" bill that would have limited the recovery rights of uninsured and drunk drivers. But Gov. Brian Schweitzer said the bill would have established a punishment that did not fit the crime.
A bill was signed into law in Wisconsin that will lower minimum liability levels that policies issued in the state must provide.
Arizona's governor signed into law a statewide ban on emergency response fees, also known as "crash taxes." More than 10 other states also have taken legislative action to stop local government entities from billing motorists for the cost of responding to their car accidents.
To read articles about these and the latest car insurance news developments, readers can go to http://news.onlineautoinsurance.com/ where visitors will find the only site on the Web devoted to publishing nothing but the latest newsworthy stories about the U.S. car coverage industry.
# # #