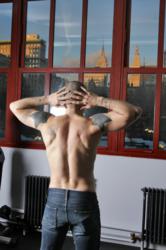 New York, NY (PRWEB) April 09, 2012
NY SportsMed is proud to announce the addition of three new programs to its successful physical therapy practice – Yoga, Pilates and FITT (Fully Integrated Total Training). NY SportsMed (NYSM) is renowned for their superior physical therapy practice and the new programs are an ideal accompaniment to assisting their patients' return to pain free, active lives. These programs will be facilitated by highly trained physical therapists, the same therapists that provide expert care and healing for patients. Participants will be guided by highly trained professionals on how to properly exercise and practice yoga and Pilates while strengthening and protecting injuries and preventing re-injury. FITT Personal Training program is personal training designed to help patients maintain and extend the progress made through physical therapy treatment and will be available at all of NY SportsMed's locations. The yoga and Pilates classes will be held at the Union Square location during spring.
A professionally guided yoga practice can be extremely beneficial in helping physical therapy patients to build strength, progress their rehabilitation and live a pain free life. NYSM's Vinyasa yoga class will emphasize proper technique through breath-synchronized-movement, teaching participants to move from one posture to the next with a focus on proper body mechanics. The class will be lead by Shelby Frantz, one of NYSM's very own. Shelby is as an exercise specialist and has been teaching yoga for 3 years. This Vinyasa yoga class will offer a variety of invigorating movement and is appropriate for all levels.
Pilates is another excellent compliment to a physical therapy program. This discipline focuses on control of movement to prevent further injury. Pilates is low-impact and will not induce inflammation and overuse syndromes. Patients will notice gains in strength and improvements in flexibility with the regular practice of Pilates. Victoria Torrie-Capan of Pilates on 66, will facilitate NYSM's Pilates mat workout. The class is designed to encourage participants to focus on the development of core postural muscle strength, stability and flexibility resulting in more efficient movement. Students will be prompted to concentrate on strengthening the core muscles, through breath and the contraction of muscles so as to improve the quality of each movement and prevent injury. This class is suitable for all levels.
NY SportsMed is well known for its comprehensive personal training program, FITT (Fully Integrated Total Training program),which is overseen by the same professionals that help patients return to optimal health. NYSM's trainers, who work hand-in-hand with physical therapists on a daily basis, are adept at offering training, advice, guidance and confidence building for athletes of all levels. Whether transitioning from physical therapy treatment, wanting to get back into shape following an injury, desiring to lose weight, or training for an athletic endeavor, FITT empowers individuals to become their physical best. Packages start at $65 per session. To learn more or sign up for classes and/or personal training contact NY SportsMed at 215-750-1110 or visit their website at http://nysportsmed.com.