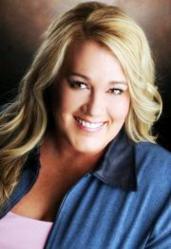 The feeling one gets from helping people live a healthier life, increase their income, and achieve their financial freedom, is second to none.
Salt Lake City, Utah (PRWEB) October 29, 2012
April Fano is an international business owner and philanthropist who has been nationally featured on CBS, The Boston Globe, The San Francisco Chronicle The LA Daily News and The Miami Herald, and is a member of Usana's coveted Multi-Million Dollar Club. April started her USANA business at the young age of 18 while waitressing full time and studying at the local university. April diligently worked at building her independent USANA business and became a dedicated student of the industry. April quickly realized that she would be able to attain that above average lifestyle and financial freedom she was looking for. Five months after starting her business, April quit her full time waitressing job and university studies and dedicated all her time to building her USANA business. She is so glad that she did. April has received many awards ranging from Top 5 Associate Earner to top 6 Associate Sponsor internationally. April has served as an inaugural member of USANA's Independent Distributer Council and served a second year in 2009. Now 18 years later she has had the opportunity to travel the world with her family, be a stay at home mommy for her 3 beautiful girls and be able to "Pay it forward" through multiple charity avenues.
April Fano's desire to "Pay it forward" has made her seek worthy charities and causes to support, such as The HOME Foundation. April feels that The HOME Foundation has similar core values to her own, one of which is to help others by sharing their expert services. April says, " the feeling one gets from helping people live a healthier life, increase their income, and achieve their financial freedom, is second to none."
About USANA Health Sciences:
Founded in 1992, USANA Health Sciences has reported record sales and earnings and has been listed second on Investor's Business Daily's list of 12 high-quality, leading stocks in today's bear market. Additionally, the financial newspaper has included USANA on its list of today's 100 market leaders.
The company is publicly traded on New York Stock Exchange (USNA), and currently operates in the U.S., Canada, the United Kingdom, the Netherlands, Australia, New Zealand, the Caribbean, Hong Kong, Japan, Taiwan, South Korea, Singapore, and Mexico.
About The Home Foundation:
The Helping Others Means Everything, or The H.O.M.E. Foundation, is a not-for-profit organization dedicated to helping our Family of Charities. Frankie Verdugo, President of The HOME Foundation, wants to help as many worthy charities as possible as they struggle during these tough economic times. Frankie Verdugo helps raise funds through luxury dream home raffles, home giveaways, prizes, and high profile celebrity events in Hollywood... "Our mission is to help charities reach their fundraising goals and to bring awareness to their praiseworthy causes."
April Fano
801-643-2039
April (at) Usana (dot) com
http://www.AprilFano.com