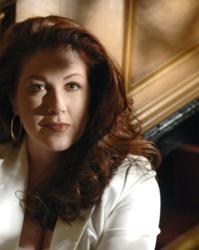 The exquisite, soulful vocals of April Hall deliver every lyric with emotion and conviction. - Jazz Times
Boston, MA (PRWEB) May 15, 2012
April Hall releases "Room for Two"
(Bee Boy Records - Jazz)
"The effulgent Hall has a rich commanding voice and the stage presence of an old soul of jazz." - Boston Globe
"…An achingly beautiful voice" - All About Jazz
April Hall's "Room for Two" combines the intimate setting of duet performances with masterful interpretation and stunning vocals. Each track pairs her voice with one other instrument, boldly exposing every detail of the performance and revealing a rich landscape of normally hidden musical subtlety. April graduated from Berklee College of Music, where she received the prestigious Louis Armstrong Performance Award. Hall participated in projects for Atlantic Records, under the direction of Arif Mardin, for the likes of Chaka Khan, Melissa Manchester, and Bette Midler and has performed with artists such as Rosemary Clooney, Al Jarreau, Jim Ed Brown, Helen Cornelius, and Dinah Shore. She regularly performs and records with New England's finest musicians and is currently Executive Producer for ImprovLive 365, a webseries dedicated to exploring spontaneous creativity and improvisation. Hall's music has been featured on Boston's Women in Music series, on The Coffeehouse, WGBH's Eric in the Evening, and the nationally syndicated Jazz After Hours with Jim Wilke. Her new album, Room for Two, is an homage to the days of vinyl, when albums themselves were works of art. Every aspect of it is a duet; the way it was recorded, the improvised album art, the poetry written for each track, and the songs themselves.
From "Amazing Love," the album's first track, where Hall's vocal phrasing and Gray Sargent's guitar conjure up the relentless swing of Joe Williams singing with Count Basie's band, to the final track "That's All," with Joe Barbato's latin tinged accordion perfectly complementing Hall's elegantly soaring voice, each duet on Room For Two creates a different but equally compelling musical atmosphere. Performances by Tim Ray on piano (Lyle Lovett, Bonnie Raitt, Aretha Franklin, Lou Reed), Gray Sargent on guitar (Tony Bennett, Dave McKenna), Marshall Wood on bass ((Tony Bennett, Dave McKenna), Les Harris Jr on drums (Diana Krall, Milt Jackson, Phil Woods, Ray Brown), Marty Ballou on bass (Jay McShann, Jimmy Witherspoon, Peter Wolf), Joe Barbato on accordion (Luciana Souza, Lori Mckenna, Kenny Barron), Tom Hall on saxophone (John Medeski, Joe Maneri, Reeves Gabrels), and Mark Poniatowski on bass encompass a wide range of instruments and settings, accentuating the versatility of Hall's voice. Whether she's singing with an eloquently beautiful piano, a playfully swinging bass, a soulful saxophone, or the driving rhythms of a drumset, no track on this album fails to impress. Each duet is a unique display of the chemistry between two musicians, all held together by the multifaceted nature of Hall's glorious voice.
April Hall CD Release Show - Saturday, June 2, 2012, 7:30PM
Regattabar Jazz Club
One Bennett Street
Cambridge, MA 02138
http://www.regattabarjazz.com
617-661-5000
Tickets: http://www.getshowtix.com/regattabar/moreinfo.cgi?id=2593
You can learn more about April Hall and see her latest show dates on her website at http://www.aprilhall.com.
For further information/interviews/exclusives please contact Melissa Zeigler (at) powderfingerpromo (dot) com.