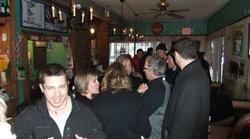 From gamers to programmers, to engineers and artists, "April is" reflects the diversity of Lexington's creative/tech community and offers something for everyone.
Lexington, KY (PRWEB) March 30, 2010
April is the time for forward thinkers, innovators and entrepreneurs to be in Lexington, Ky. In addition to being one of the Bluegrass region's most beautiful months, April features "April is," a series of events dedicated to celebrating and engaging the creative class and technology professionals.
Coordinated by IN2LEX, a volunteer committee, "April is" has about 25 events scheduled for the 30-day period, including a TEDx event, a three-day national conference on building creative cities, seminars, contests, presentations, exhibits, collaborative creative/work sessions, music, parties and charity events.
"Lexington has a vibrant and growing community of people who thrive on creating innovative approaches to business, society and the arts. Events we sponsored last year, such as Geeks Night Out and Pecha Kucha, demonstrated a strong base for events on a much bigger scale," said IN2LEX chairman Ben Askren, a systems integration engineer with Lexmark.
The city of Lexington got the ball rolling by snagging the national, three-day Creative Cities Summit to be held April 7 – 9 with many notable speakers, including Richard Florida, author, The Rise of the Creative Class; Charles Landry, author, The Creative City; Bill Strickland, CEO, Manchester Bidwell Corp. & author of Making the Impossible Possible; and Kentucky native Ben Self, creator of Barack Obama's official campaign website.
MobleX will make its final stop of a five-city tour in its hometown of Lexington April 16 offering the most current information on the mobile industry. And Mechanalia, to be held twice, combines robotics with rovers to create something akin to a live action video game.
Kentucky's first TEDx conference will be April 23. TED is a non-profit dedicated to "ideas worth spreading." The program is designed to give communities, organizations and individuals the opportunity to stimulate dialogue through TED-like experiences at the local level. At TEDx events, unique talks given by live speakers combine with TEDTalks videos to spark deep conversation and connections.
Other events include Appalachian Ideas, in which participants collaborate to solve culture issues with engineering, an inventors' exhibit and all-night work fest, a jazz festival, a full-blown, multiple screen gamer party on Main Street and many other social and leisure events, such as Keeneland's spring thoroughbred race meet, and Second Sunday, an event that closes down one or more streets to encourage fitness.
"We're suggesting people check the calendar and make plans well in advance to attend the events that appeal to them, as we know many of these opportunities and top-shelf speakers will be in high demand," Askren said. "From gamers to programmers, to engineers and artists, "April is" reflects the diversity of Lexington's creative/tech community and offers something to everyone."
A complete list of events, venues and sponsors is available at http://www.in2lex.com, as are links to registration forms and related sites. IN2LEX is also on Facebook and Twitter.
About Lexington:
The Lexington, Ky. metropolitan area is home to many high-tech businesses that employ more than 6,000 people. Some of the better known are Lexmark, HP, ACS, IBM, Belcan Engineering Services, Mersive Technologies, Neogen Corporation and Transposagen Biopharmaceuticals, Inc. It also has many smaller and highly talented entrepreneurial companies with national reputations and clients.
With a wealth of public and private universities in and around the community, a growing arts and social culture, easy access to larger cities, and an affordable quality of life, Lexington is gaining a reputation for a great place to locate for high tech and other professional jobs. Among other accolades, Lexington in 2009 was ranked #13 in the national list of Top Hotspots for Young, Talented Workers, Midsize Magnets by NextCities and #6 among the best Mid Size Metro to Launch a Business by CNN/Money.
# # #