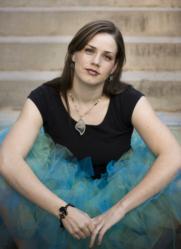 My readers are very passionate, and it's fun to see how they react to the two love interests in my Wings series.
New York, NY (PRWEB) May 05, 2011
People who aren't readers of young adult paranormal romance novels don't have a preference for Tamani the spring faerie or David the mortal. But when it comes to devotees of best-selling author Aprilynne Pike and her hugely popular Wings series, the allegiances are firmly – and enthusiastically - aligned with one ''team'' or the other.
"My readers are very passionate," says Aprilynne. ''When my first book Wings came out, fans seemed evenly divided over which team they were on. The split shifted after my second book Spells was released to about 70-30 in favor of Tamani, but with two more books to go in the series, it's only half-time!''
Wings is the first of a four-book saga that tells the tale of a home-schooled tenth grade girl named Laurel, who after moving to Los Angeles with her adoptive parents, learns that she is a faerie. Laurel encounters an exotic and alluring faerie named Tamani, who is sent to protect her and poses as a foreign exchange student in her high school. He explains that Laurel is meant to inherit her parents' land, which holds the gate to Avalon and is crucial to the faeries. Laurel's attraction to Tamani is complicated by the fact that she has a mortal boyfriend, David. Along with sorting out her feelings for Tamani and David, Laurel also needs to protect her family, save the faeries' secret, and figure out how she fits into both the mortal and faerie worlds.
Both Wings and Spells were New York Times bestsellers, and have become favorites in 30 countries. Wings has also been optioned by Disney, and is being developed into a movie.
Aprilynne's international readers not only wait anxiously for the next installment in the series, they also create new endings for Wings and Spells, as well as storylines for future releases. The ''Aprilynne Pike stories'' page on FanFiction.net features dozens of such entries, along with hundreds of comments by Aprilynne's loyal fans.
Comparisons of Aprilynne's work have been made to the highly successful Twilight saga by author Stephenie Meyer. The books comprising the Twilight series have also generated huge "team" supporters of the two lead male characters - Edward Cullen, a vampire; and Jacob Black, a werewolf – who are competing for the affections of Bella Swan, a mortal.
The competition between Team Tamani and Team David is sure to heat up with Illusions, Aprilynne's third installment in Laurel's story.
As Illusions opens, Laurel is a senior in high school. She meets a new student named Yuki, who Laurel quickly realizes is a faerie, though Yuki doesn't seem to be aware of this.
Laurel is determined to figure out how Yuki fits into the picture, and what connection she may have to the ever-increasing threats to her family and Avalon. Laurel also struggles to maintain a balance between David and Tamani. But keeping her two worlds in order becomes increasingly complicated. When the threat to Avalon grows, Laurel's sense of control over her situation shatters and she must confront a danger that's greater and deadlier than anything she ever could have imagined.
A quick look at the review page of Illusions on Goodreads.com shows how spirited the Tamani-David debate has become. Of the hundreds of reader entries, Team Tamani has a significant edge, but will Tamani's lead change once Illusions hits the bookstores?
''It's been fun to see fans react to the two love interests,'' Aprilynne shares. ''Before Wings came out, I told a few people that at the end of book one, readers should think Laurel made the right choice. Then, at the end of Spells, they should understand why Laurel made the choice she did. At the end of Illusions, readers should see the inevitable coming. And at the end of the final book, they should be torn again. It will be interesting to see if my predictions come true!''
###