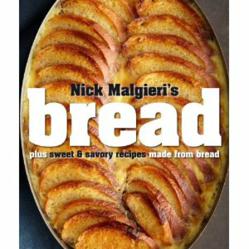 New York, NY (PRWEB) August 01, 2012
Nick Malgieri asked Crooked Brook to design, cut, sew and embroider custom aprons for the launch of his newest cookbook, "Bread."
Nick has his own custom bib apron pattern and had them made in Lime and Red 100% cotton denim fabric.
The BREAD logo was embroidered on the center front of the aprons in ivory colored thread on red and in espresso colored thread on the lime aprons.
About Nick Malgieri
Nick Malgieri, former Executive Pastry Chef at Windows on the World, is a 1996 inductee into Who's Who of Food and Beverage in America. His latest book is "Bread." He is also the author of The Modern Baker (DK Publishing, 2008) which was nominated for an IACP award; Chocolate (HarperCollins, 1998), winner of an IACP/Julia Child Cookbook Award for best baking book of 1998, voted Best Chocolate Book in the World by the 1998 Salon International du Livre Gourmand, and included in Food & Wine magazine's Best of the Best for 1998; and How to Bake (HarperCollins, 1995), the recipient of a James Beard Foundation cookbook award for best baking book of 1995.
Currently, Malgieri directs the baking program at the Institute of Culinary Education (formerly Peter Kump's New York Cooking School) and frequently serves as a guest teacher at many cooking schools. Since 1985, he has appeared at culinary events throughout North America, and at the Smithsonian Institution.
About Crooked Brook
Crooked Brook is a unit of the atelier division of an art studio that offers full service apparel design, pattern making, sample making, private-label small lot production and embroidery. Since 1989, they've built a strong reputation of providing top-notch apparel designs, patterns, fit and production samples for many brand name catalogs and retailers, as well as wardrobe and costumes for movies, television and theater.
All Crooked Brook branded garments and accessories are proudly made to order in the U.S.A. Because of their unparalleled attention to detail in tailoring, they were awarded a Supima® licensing agreement. These contracts are not awarded lightly. The applicants must meet requirements insuring the highest level of quality and integrity for any products bearing the Supima® brand.
In addition, Crooked Brook designs and manufactures:
Men's and women's chef jackets, casino, spa, resort, hotel, chef and restaurant uniforms as well as alumni chef jackets for the Culinary Institute of America. Each garment can be personalized with the customer's choice of fabric, pockets, buttons, piping and embroidery.
With a design studio in New York City, (the fashion and gastronomic capital of the world) and a production facility in Utica, New York, they've garnered international brand name recognition as the maker of the "World's Highest Quality Chef Jackets™".
Promotional products, items, decorated apparel and accessories, such as; custom embroidered jackets, custom embroidered fleece vests, hats, polo shirts, fleece blankets, sweatshirt blankets, custom embroidered shirts, embroidered hoodies, embroidered golf shirts, custom t-shirts, tote bags, custom embroidered sweatshirts and aprons that can be customized with the following apparel decorating methods:
Embroidery
Tackle Twill
Appliqué
Direct to Garment Printing (DTG)
Sublimation
Custom embroidered lab coats uniforms and scrubs for nursing, medical, dental, scientific, engineering, technology & healthcare professionals.
Custom made apparel and accessories for men and women, including but not limited to: suits, shirts, Hawaiian shirts, pants, vests, dresses, skirts, gowns, jeans, boxer shorts, martial arts and yoga outfits.
Crooked Brook ships worldwide. Hours of operations are 7:00 a.m. to 7:00 p.m. EST, seven days a week. Reach them at (315) 733-1992 to learn more.