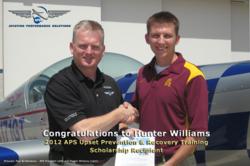 APS is honored by the opportunity to provide life-saving upset recovery training to this year's recipient, Hunter Williams, through our safety-first loss of control in-flight scholarship program.
Mesa, Arizona (PRWEB) July 10, 2012
Aviation Performance Solutions LLC (APS) is pleased to announce the winner of this year's APS Upset Prevention and Upset Recovery Training Scholarship to Mr. Hunter L. Williams, a Senior at Arizona State University.
APS, a FAR 141 Flight School, is a recognized global leader in providing Upset Prevention and Recovery Training (UPRT). The preferred Upset Prevention and Recovery Training provider for US Government Agencies, Fortune 500 Flight Departments and a key component of Bombardier Aerospace's "Leading Edge" program, APS donates one Professional Pilot Upset Prevention and Recovery Training Course each year, a $4000 value, to a deserving pilot starting their professional aviation career.
Prospective recipients are selected based on their overall GPA (candidates must be a student, or recent graduate of an Aviation College or University Aerospace program), flight ratings/certificates, flight experience, letters of recommendation and a personal essay.
"Mr. Hunter Williams' background, experience and dedication to his aviation career made him a worthy and accomplished choice for the APS UPRT scholarship" said Clarke McNeace the APS Vice President of Flight Operations & Standards. "We are very excited to have awarded this training scholarship to such a deserving aviator as he starts his professional career" said Mr. McNeace. Hunter will graduate from Arizona State University this year with his Bachelors Degree in Aeronautical Management Technology Professional Flight, Commercial/Instrument Single and Multi Engine ratings and as a Certified Flight Instructor and Instrument Instructor (CFI/II). While working as a part-time Flight Instructor, Hunter was also able to maintain his GPA.
Hunter completed his APS scholarship award training on 30 June 2012. APS encourages applicants to submit early for the 2013 APS Upset Recovery Training Scholarship at: http://www.apstraining.com/scholarship/
ABOUT AVIATION PERFORMANCE SOLUTIONS LLC (APS)
Aviation Performance Solutions LLC (APS), dba APS Emergency Maneuver Training, based at the Phoenix-Mesa Gateway Airport in Mesa, Arizona USA, has successfully trained over 4,500 professional pilots in fully comprehensive upset recovery skill development. For more than a decade, APS has been committed to giving professional pilots of all skill levels the highest quality upset recovery training available. APS offers comprehensive LOC-I solutions via industry-leading computer-based, on-aircraft, and advanced full-flight simulator upset recovery and prevention training programs. In addition to all flight training being in full compliance with the internationally-recognized Airplane Upset Recovery Training Aid – Revision 2, APS is the only Part 141 Flight School currently certified in the delivery of all of upset recovery, stall/spin and instrument recovery training courses worldwide.