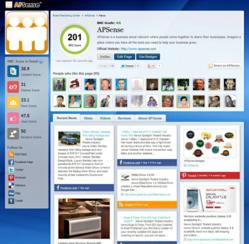 I have instantly fallen in love with the APSense Brand Pages.
Internet (PRWEB) July 10, 2012
Effective brand building for business and eCommerce has been introduced with "Brand Pages", a new feature launched by APSense.
"Brand Pages" can be created for any business, both online and offline. Business owners or their agents can build Brand Pages that:
+ Aggregate Social Profiles
+ Measure the Brand's online influence
+ Manage the brand's social media assets in one place
A growing number of independent business owners have taken the opportunity to use the newly released APSense Brand Marketing Center (BMC) to build a Brand Page that gathers together much of the content produced in raising awareness of what services and products they provide.
Don Dousharm, owner of Exceptional Content Publishing says "I have instantly fallen in love with the APSense BMC....... Not only can you build your brand quickly but those who have no concept of branding will be educated and well on their way to developing their own branded business... APSense is leading the pack by far in helping to build business through the latest technology and innovative applications."
A Brand Page is all about how others see a business or community, what that business or community is all about and what it offers. The process of creating a Brand Page in the Brand Marketing Center(BMC) will help to identify exactly what a brand is about. Having a well constructed Brand Page will then help others to identify with the brand, and by encouraging others to share Brand Page, they can help the brand to grow.
Feeds of posts made by the business in networks such as Facebook and Twitter (and several others) are displayed, making it simpler for clients and potential customers to keep up with the latest news and events. Selected pages from the company website can be added to the Brand Page, along with videos promoting the brand.
Each Brand Page is awarded a BMC Score based on several criteria. These are Content, Shares on Social Network sites, Fans on Facebook Fan Pages, Twitter followers, Likes on the APSense network and Reviews on WorthReferral. Weighting is applied to these that reflect the ranking and reputation of the sources of articles. The BMC Score can be updated regularly as the business reputation grows.
The Brand Page also allows the business owner to manage their social media assets with the potential to allocate the tasks to different people sharing responsibility for updating the applications that feed into it.
The Brand Marketing Center also provides a badge that owners can place on their site to link back to the Brand Page, providing them with a measure of the brand's trustworthiness and influence. In addition to this direct measure of trust, Brand Pages are gaining prominent positions in search engine results.
With purposeful and focused creation and updating, a Brand Page will provide this measure of the online influence of the business and help to build the trust of customers and clients.
About APSense.com and the Brand Marketing Center (BMC).
APSense.com is a Business Social Network designed to help business owners, online marketers and affiliates build their own network of contacts, locally or on a global scale.
The Brand Marketing Center in APSense.com is an application that is used to generate a Brand Page and a BMC Score for a business or community group. The Brand Page is actually several pages with content provided from various feeds, material supplied by the owner of the page and interaction with customers, clients and supporters.
Latest news and content from the featured business or community site, and its networking feeds is shown on the front of the Brand Page, with other sections for videos, articles and reviews.