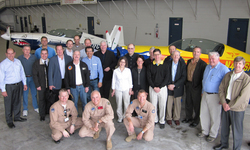 ICATEE's selection of Arizona allows a unique opportunity for delegates to witness first-hand and evaluate one of the industry's leading upset recovery providers, APS Emergency Maneuver Training
Mesa, AZ (PRWEB) March 22, 2011
The International Committee for Aviation Training in Extended Envelopes (ICATEE), a working group of the UK-based Royal Aeronautical Society, announced today industry-wide attendance at its first 2011 conference at the Phoenix-Mesa Gateway Airport in Mesa, Arizona this week, hosted by Arizona's APS Emergency Maneuver Training.
ICATEE was created in 2009 in response to loss of control in-flight (LOC-I) challenges to commercial aviation safety worldwide. Due to growing needs to address this potentially fatal threat, and the complexity of creating an effective and affordable change to current training, this international working group was formed. ICATEE's selection of Arizona allows international representatives from all sectors of the commercial aviation industry a unique opportunity evaluate one of the leading providers of LOC-I solutions, APS Emergency Maneuver Training.
LOC-I is defined as flight occurring outside the normal flight envelope with an inability of the pilot to control the aircraft. In a report issued by Boeing in July 2010, the Commercial Aviation Safety Team's statistical research identifies LOC-I as the most severe hull loss causal factor in commercial aviation worldwide over the past 10 years, resulting in the most crash-related fatalities from 2000 through 2009.
"ICATEE was established to enhance the safety of commercial air travel to protect our family, friends and loved ones as they travel the globe by the millions daily," said Dr. Sunjoo Advani, president of Netherlands-based company International Development of Technology b.v., and Chairman of ICATEE, "Our ICATEE mandate takes on the challenging task of developing long term global flight training solutions to standardize and quality-assure initiatives specifically targeted to reduce airline crashes and associated fatalities. With involvement of major stakeholder groups from the aviation industry, ICATEE has the unique ability to identify problems, suggest reasonable solutions, and validate them. One of the main participants in ICATEE, KLM Royal Dutch Airlines, has embarked upon adopting upset recovery training in collaboration with APS. That is also why ICATEE is excited to come to Mesa for this meeting."
"It is a great honor to have the distinguished opportunity to host ICATEE and welcome its team of international aviation experts to explore loss of control in-flight solutions developed by APS over the last 15 years," says Paul BJ Ransbury, president of APS Emergency Maneuver Training, "It is the responsibility of regulatory agencies and commercial aviation training departments around the world to implement industry-standardized loss of control in-flight solutions for pilots to effectively recognize, prevent, and if necessary, recover from an airplane upset."
About APS Emergency Maneuver Training
APS Emergency Maneuver Training has successfully trained over 4,000 professional pilots in fully comprehensive upset recovery skill development. APS is committed to giving pilots of all skill levels the highest quality upset recovery training available through industry-leading web-based, on-aircraft, and full-flight simulator upset recovery and prevention training programs. In addition to complying with the internationally-recognized Airplane Upset Recovery Training Aid, APS is the only Part 141 Flight School currently all-inclusively certified in the delivery of upset recovery, stall / spin and instrument recovery training courses worldwide. More information is available online at http://www.apstraining.com.
About the International Committee for Advanced Training in Extended Envelopes (ICATEE)
ICATEE is supported through participation from the aircraft industry, simulator manufacturers, training providers, regulators, researchers and airline customers. Participants include Boeing, Airbus, CAE, Opinicus, ETC, APS Emergency Maneuver Training, Calspan, FAA, NTSB, NASA, NLR, DLR, ALPA, IFALPA, KLM Flight Training, IDT, UTIAS and many others. ICATEE is chaired by Dr. Sunjoo Advani, Mr. Peter Tharp, and Capt. Gordon Woolley (Chairman of the RAeS Flight Simulation Group) where all three are members of the RAeS Flight Simulator Group.
The International Civil Aviation Organization (ICAO) has vowed to incorporate the recommendations made by ICATEE into its operations and training documents. In the long term, it is expected that national aviation authorities worldwide will also adopt ICATEE recommendations, making the developments taking place in this working group a new world standard. More information is available online at http://www.idt-engineering.com/ICATEE.html
For Media Enquiries:
Dr. Sunjoo Advani, ICATEE Chairman
+31 655 737 345 The Netherlands | s.advani (at) idt-engineering (dot) com
# # #